Nesting Enables Italian Fabricator to Keep Current
January 29, 2020
Tecno Meccanica Srl (firm of Tecnolamiere Group), a metalworking company located in Italy's Tuscany region, the Pistoia province to be precise, serves global customers in a range of sectors, including appliances, food packaging, signage and lighting, and railway and naval coatings.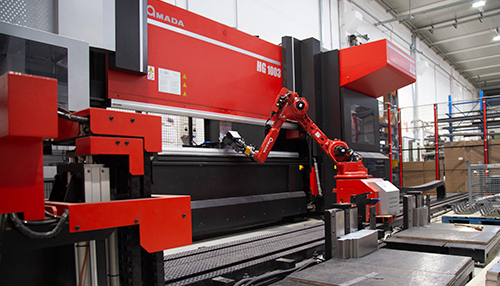 Machine-usage tracking is one of the benefits derived from advanced production management software.
As a contractor known for its custom work, Tecnolamiere fulfills the entire project development process, from conception to finished part. Its processes include laser cutting, bending, welding, trimming and polishing. To keep pace with innovation and market needs requires the expertise of its 100 employee and the fabricating capabilities of advanced equipment that includes two fiber lasers from Trumpf and Amada, and one Amada punch press/laser combination.
Key to the company's success is the use of SigmaNest production-management software from Cincinnati, OH-based SigmaTek Systems.
Before…
Before installing the software in the spring of 2019, Tecno Meccanica employed rigid production programming software that was unable to meet the company's evolving production needs. Myriad orders required customizations and plug-ins that the old program could not provide. The fabricator needed a software solution that would allow it to mix different work orders, while avoiding problems in the unloading phase.
The absence of such a production-management program made the administration of all the phases of the processing cycle even more difficult. Processes were long and repetitive, given the need to upload the information multiple times into multiple software programs and switch continuously from administrative and accounting management to manual nesting.
…and After
Adding the SigmaNest production-management system was Tecno Meccanica's first step toward achieving maximum efficiency of its equipment and workforce. Implementation of custom-made plug-ins made it possible to speed up operations by guaranteeing the management of 4000 to 5000 custom items during the entire implementation phase, while supporting the exchange of information with the company's administrative management.
SigmaNest software was programmed to manage key areas needed for production. Parameters allow users to add cycle time for secondary phases such as folding and painting to the automatic calculation of cutting and part costs. Reports include part diagrams and bending sequences for clear communication in all departments. SigmaNest's integrated inventory database prevents production delays by automatically alerting users when new material will be needed to fulfill upcoming orders.