Our Latest Issue
Latest Video
Upcoming Events
Upcoming events for MetalForming Magazine!
Free E-Newsletters
Sent bi-weekly to inform you of happenings within the metalforming industry.
Start receiving newsletters and gain access to all content throughout the site.

---
Beckwood Engineers 75-Ton Hot-Forming Press for Cutting Dynamics
Thursday, October 18, 2018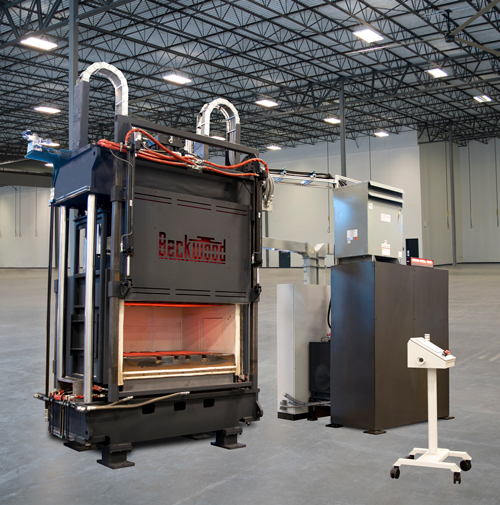 Beckwood Press Company
, a St. Louis-based provider of custom hydraulic presses, automation systems, and the Triform line of precision-forming equipment, has partnered with Avon, OH-based aerospace-parts supplier,
Cutting Dynamics
, to design and manufacture a 75-ton hydraulic press used to hot-form titanium structural components. Capable of temperatures to 1600 F, the custom press uses electric cartridge heaters to provide even temperature distribution throughout the forming process, increasing the malleability of titanium and reducing springback. Utilizing nine zones of heat control in each platen, operators can maintain a constant platen temperature to within ±5 F throughout the cycle. Automatic insulated door systems increase heat efficiency and maintain the desired temperature set points while facilitating easy part and tool loading. Additionally, Beckwood's PressLink remote support module enables off-site troubleshooting and program updates.
---
Schuler and Porsche Forrm Joint-Venture
Wednesday, October 17, 2018
Porsche AG, a German car maker, and Schuler, Inc., a Canton, MI-based provider of metalforming technologies and products, announced plans to build a press shop together for the car factory of the future. Representatives of both companies signed a contract in September for the foundation of a corresponding joint venture. The European Commission has already green-lighted the joint undertaking, while approval from further antitrust authorities is pending. The objective of this Schuler and Porsche joint venture is to create the "Smart Press Shop" as part of a networked Industry 4.0 approach. A Schuler press release says pioneering technologies will enable the flexible production of complex car-body parts, with the focus on aluminum body panels and small-batch production.
"Porsche wants to use the joint venture to lay the foundations for the future of sports car manufacturing," says Albrecht Reimold, member of the executive board for production and logistics at Porsche AG. "By dovetailing design, development, car-body planning, toolmaking and production within the Porsche Group, we can significantly influence the quality of our sports cars."
Schuler CEO Domenico Iacovelli states, "Porsche and Schuler will be using a press shop that sets new standards in terms of manufacturing performance, as well as the digital networking and readability of data streams along the entire production process. Porsche not only will benefit from this major step forward, but ultimately, so will other manufacturers."
The joint venture will utilize Schuler's Servo 20 Technology, with maximum output of 18-20 strokes/min., while reducing energy consumption per stroke and per part. A newly developed die-changing concept makes it possible to produce small-batch sizes with a high degree of economic efficiency. Further features of the new line include an optimized servo drive in the downstream presses, plus a reduced footprint.
The joint venture, expected to create more than 100 skilled jobs, will operate as an independent, with name and location yet to be determined.
---
Bermo Announces Certified Weld Inspector
Tuesday, October 16, 2018
Bermo, Inc.
, which specializes in metal fabricating and assemblies, announced that one of its manufacturing engineers, Mark Witt, has passed his audit to become a Certified Weld Inspector (CWI). Bermo's CWI initiative was launched in response to a growing number of its customers requiring a higher level of welding expertise from suppliers, as more customers are farming out their internal welding operations to make room for growth.
---
Visit Our Sponsors