Our Latest Issue
Latest Video
Upcoming Events
Upcoming events for MetalForming Magazine!
Free E-Newsletters
Sent bi-weekly to inform you of happenings within the metalforming industry.
Start receiving newsletters and gain access to all content throughout the site.

---
Camfil APC Revamps Mobile-Optimized Website
Wednesday, February 21, 2018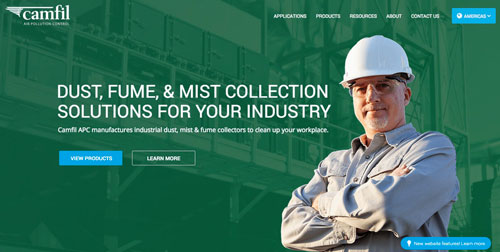 Camfil Air Pollution Control, Jonesboro, AR, has introduced its upgraded mobile-optimized website,
www.camfilapc.com
. The redesigned site also provides global access in multiple languages, with the first phase including U.S. English, U.K. English, German and Chinese.
The site enables visitors to find the solutions they need from the company's line of high-performance industrial dust, mist and fume collection equipment and accessories. The site's mobile responsive design is compatible with all devices and makes it easy for visitors to share information such as photos, videos, specs and literature. The site also gives users easy-to-find access to a wide range of information about their industry, application and dust, mist and fume control solutions.
"Investing in our website was a top priority for Camfil this year because it enhances our commitment to ensuring healthy working environments and worker safety," says Graeme Bell, vice president of Camfil APC Americas. "The improvements to the site reinforce our mission to help companies find fast solutions to their toughest dust, fume and mist collection challenges."
---
Batesville Tool & Die Achieves 16949 Certification
Tuesday, February 20, 2018
Batesville Tool & Die, Inc., Batesville, IN, has announced completion and receipt of its International Automotive Task Force (IATF) 16949 Certification. The weeklong audit consisted of checks and balances for all departments and processes.
"Batesville Tool and Die takes customer requirements and expectations very seriously," says Jody Fledderman, president and CEO. "So it was critical for our management and workforce to embrace and achieve this certification. This accomplishment will allow us to continue to be a premier supplier in the automotive industry."
For more,
www.btdinc.com
.
---
SigmaNest User Conference to Focus on Cobotics
Friday, February 16, 2018
SigmaTEK Systems, Cincinnati, OH, has announced that registration for its annual SigmaNest user conference now open. The SigmaTEK Academy and Conference (STAC), May 8-9, at the Sharonville Convention Center will explore the collaboration of fabricators and robots and its effect on manufacturing. Content also will include IoT, advanced user training and shop-floor automation best practices.
For more information and to register,
www.stac2018.com
.
---
Visit Our Sponsors