Our Latest Issue
Latest Video
Upcoming Events
Upcoming events for MetalForming Magazine!
Free E-Newsletters
Sent bi-weekly to inform you of happenings within the metalforming industry.
Start receiving newsletters and gain access to all content throughout the site.

---
Wiegel Tool Works Achieves IATF 16949:2016 Certification
Tuesday, October 23, 2018
Wiegel Tool Works, Inc., Wood Dale, IL, announced the completion of its latest quality assessment and achievement of the IATF 16949:2016 quality certificate, issued by ABS Quality Evaluations, Inc. The new certification will supersede and replace Wiegel Tool Works' current ISO/TS 16949:2009 certification and act as its quality management standard for operating in the automotive industry. IATF 16949:2016 is a global industry standard created by the International Automotive Task Force that defines the requirements of a quality-management system for organizations in the automotive industry. It replaces ISO/TS 16949:2009.



---
Aida-America and Coe Host Manufacturing Day Events
Monday, October 22, 2018
Aida-America
, a Dayton,OH-based provider of metal-stamping equipment, and
Coe Press Equipment
, a Sterling Heights, MI-based provider of coil-handling and servo-roll-feed equipment, hosted Manufacturing Day events at their respective facilities on October 5.
Around 60 vocational- and high-school students toured Aida's 180,000-sq.-ft. facility and learned about the company's equipment and its capabilities. At Coe, about 30 high-school students listened to CEO Hunter Coe share his manufacturing experience, while Reid Coe shared company plans for an internship program. Coe experts also led sessions on engineering, R&D, sales, machining and assembly, where they were given a hands-on project to build a roll feed by referencing a supplied bill of materials and blueprint.
---
Beckwood Engineers 75-Ton Hot-Forming Press for Cutting Dynamics
Thursday, October 18, 2018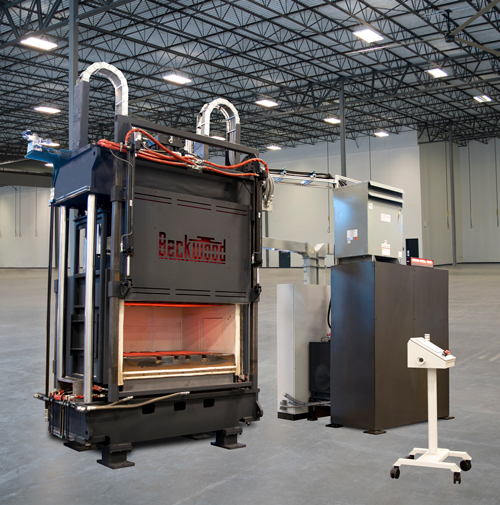 Beckwood Press Company
, a St. Louis-based provider of custom hydraulic presses, automation systems, and the Triform line of precision-forming equipment, has partnered with Avon, OH-based aerospace-parts supplier,
Cutting Dynamics
, to design and manufacture a 75-ton hydraulic press used to hot-form titanium structural components. Capable of temperatures to 1600 F, the custom press uses electric cartridge heaters to provide even temperature distribution throughout the forming process, increasing the malleability of titanium and reducing springback. Utilizing nine zones of heat control in each platen, operators can maintain a constant platen temperature to within ±5 F throughout the cycle. Automatic insulated door systems increase heat efficiency and maintain the desired temperature set points while facilitating easy part and tool loading. Additionally, Beckwood's PressLink remote support module enables off-site troubleshooting and program updates.
---
Visit Our Sponsors