Our Latest Issue
Latest Video
Upcoming Events
Upcoming events for MetalForming Magazine!
Free E-Newsletters
Sent bi-weekly to inform you of happenings within the metalforming industry.
Start receiving newsletters and gain access to all content throughout the site.

Hot Off the Press
---
Three Manufacturers Merge to Form Robotics Company
Tuesday, June 19, 2018
A newly formed collaborative robotics company, the result of merging three end-of-arm tooling companies—United States-based Perception Robotics, Hungary-based OptoForce, and Denmark-based OnRobot—will be led by Enrico Krog Iversen, former CEO of Universal Robots, with financial support from the Danish Growth Fund. The new OnRobot, headquartered in Denmark, looks to lead the growth of collaborative robotics, an industry expected to reach $8.5 billion by 2025.

While its three entities continue their individual operations and development, OnRobot's global network of distributors will have access to sales support, technical assistance and product training from the company's regional offices in Germany, China, U.S., Malaysia and Hungary, with more offices to come this year.

"The aim is to build a world-leading organization in development and production of end-of-arm tooling," Iversen says. "Through further acquisitions and collaborations, we expect to reach a revenue exceeding $100 million in a few years. Safe, cost-effective and versatile cobots are becoming increasingly common because they offer sophisticated and intuitive programming that enables them to be easily deployed and redeployed. Easy-to-integrate end-of-arm tooling, such as grippers and sensors, become vital elements in adapting these powerful automation tools for a wide range of applications."

For more, click here.



---
Industry Movers and Shakers
Monday, June 18, 2018
The McGregor Metalworking Companies, Springfield, OH, has appointed Jamie McGregor as its chief executive officer effective. Dan McGregor will assume the role of executive chair and will continue serving as the chair of McGregor's Board. Additionally, Tom Wright is now chief operating officer of the company.
"McGregor Metal is at a pivotal point and this is the perfect time for Jamie to become McGregor's next chief executive officer," says Dan McGregor. "As a third-generation owner, and someone who has been a part of the organization for more than 17 years (most recently as vice president of sales), Jamie's vision, strategic prowess and track record is exactly what McGregor needs as we enter our next chapter."
For more,
www.mcgregormetal.com
.
---
Trumpf Unveils Expanded Training Center
Friday, June 15, 2018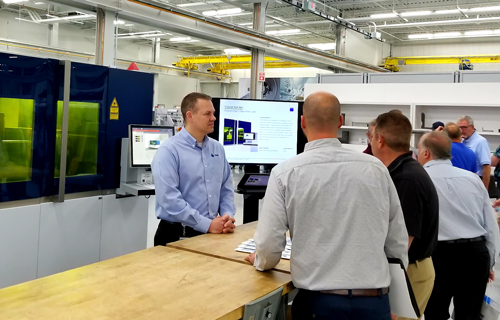 Trumpf Inc. lifted the lid on its expanded training center with a ribbon cutting—more accurately the cutting of a steel band—on June 12 in Farmington, CT. With a $3 million-plus investment, the company signaled its commitment to training and educating sheetmetal-fabrication customers and employees by adding 18,000 sq. ft. to the facility, which now totals 40,000 sq. ft. Upgrades include an interactive lobby, 14 state-of-the-art classrooms as well as two virtual-learning classrooms, an expanded machine floor for hands-on training, and an expanded, brighter cafeteria.
With the expansion, Trumpf now can train 5000 students via 630 training events per year, a boost over the 3000 students that could be trained annually prior to the expansion. The hands-on training floor now features 13 machines, including tube lasers, material-handling and -storage systems, and laser, bending and punching equipment.
"Our facility enables us to offer a wider variety of Trumpf machines and courses, to a wider variety of students," says Christine Benz, the company's training and development manager.
Company officials note that Trumpf offers International Association for Continuing Education and Training (IACET)- and (Connecticut) State Approving Agency (SAA)-certified courses, and is the first and only training center in the machine-tool industry to achieve both IACET and SAA certifications simultaneously. The company also offers a tuition-paid, full-time paid apprenticeship program and is certified to train veterans, who can, at no cost, enroll in courses to earn Continuing Education Units.
For more,
www.trumpf.com
.
---
Visit Our Sponsors