Amada America Celebrates Opening of NC Site
December 27, 2019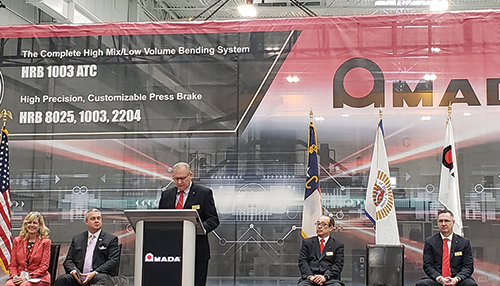 Mike Guerin, COO of Amada North America, Inc., welcomes attendees to the ribbon-cutting ceremony for Amada's Carolina Center in High Point, NC. Shown seated left to right: Sandy Dunbeck, executive vice president, High Point Economic Development Corp.; Jay Wagner, mayor, City of High Point; Yukihiro Fukui, CEO, Amada North America, Inc.; and Patrick Medlin, CMO, Amada America, Inc.
Amada America marked the opening of its 190,000-sq.-ft. manufacturing center in High Point, NC, while announcing plans to open its 62,000-sq.-ft. technical center next year on the same campus.
The Carolina Center represents Amada's latest major manufacturing site in the United States, complementing existing manufacturing centers in Brea, CA, and Batavia, NY. These facilities enable Amada to expedite production and delivery of lasers, press brakes, automated systems and precision tooling. Amada also is extending its reach of customer service and support with the addition of the Carolina Technical Center, which will join the Los Angeles Technical Center and the Schaumburg Solution Center in providing venues for hands-on demonstrations of Amada's machine solutions and manufacturing techniques.

The first products manufactured at the new Carolina Center will include automation systems and Amada's newest line of press brakes, the HRB Series. To supply tooling for the new press brakes manufactured in North Carolina, Amada Tool America recently completed a 19,000-sq.-ft. expansion at its production facility in Batavia, NY.
See also: Amada North America, Inc
Technologies: Bending