Panel Bender Features Automatic Blankholder Adjustment
February 1, 2017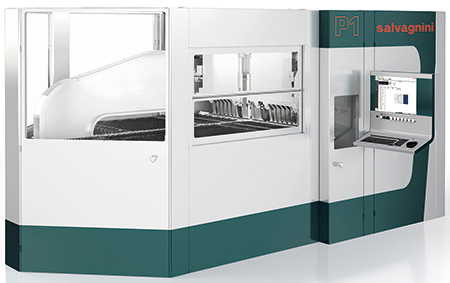 Salvagnini showcased its all-electric P1 panel bender (pictured), newly redesigned for flexible kit and single-piece part production. This includes automatic blankholder setup, as well as universal tooling and programming software for 2D drawings and for 3D models that adds built-in skill and craftsmanship to the forming process.
New features presented to FABTECH attendees:
Asymmetric auxiliary bending capability for making interrupted bends to 25 in.;

Automatic blankholder adjustment; and

A last-bend-down capability.
Also spied at the Salvagnii booth: its L3-30 fiber-laser cutting machine now available with a 6-kW resonator and equipped with a new air-cooled cutting head with adjustable optics for cutting both thin and thick materials. A new collimator enables quick adjustment for cutting materials of different thicknesses.
Salvagnini.com: www.salvagnini.com
See also: Salvagnini America, Inc.
Technologies: Bending