Compact Tube Bending Machine
October 2, 2019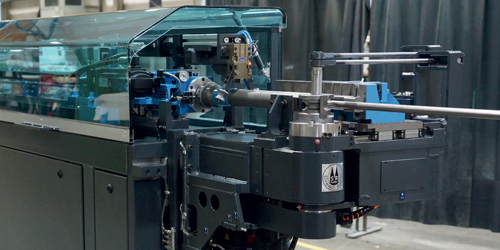 Schwarze-Robitec
Booth D46541
Schwarze-Robitec debuts the CNC 25 E TB MR fully electric tube bending machine for smaller tube diameters. With the intelligent NxG control system, almost all CNC axes can be operated simultaneously during bending, thus reducing production times by as much as 50 percent, according to company officials.
Equipped with intelligent scanners and a slim machine cover, the machine requires no additional protective fencing. The electronics are integrated into the machine body, rendering an added control cabinet obsolete. Because of this compact design, the machine allows customers to make optimum use of their available space.
The machine is available in left and right bending versions, and in a rotary variant for both bending directions thanks to a rotating bending head. As a result, even tubes with complex tube geometries can be bent in one step.

See also: Schwarze Industries
Technologies: Bending