Amada Targets Prototyping and Product-Development Work with New, Compact Laser-Cutting Machine
October 1, 2021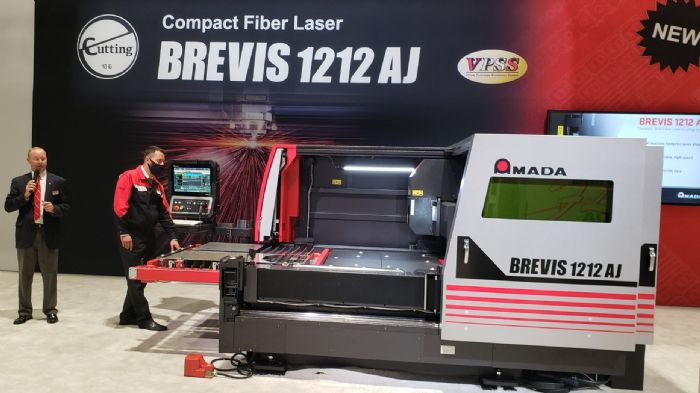 At FABTECH…Packed with metal fabrication equipment from all of its product groups, Amada used the FABTECH 2021 stage to debut (to the North American market) its Brevis 1212 AJ, a compact 3-kW fiber-laser cutting machine that occupies a trim 8- by 10-ft. footprint and proves ideal, we learned from Amada representatives, for product and process development. It's aimed at companies cutting parts as large as 4 by 4 ft., and seeking high-speed cutting with easy material loading. And, with the addition of a rotary index, it can process tube and pip as welle. Spying the machine on the show floor, we learned of its ability to nitrogen-cut reflective materials such as copper and aluminum alloys; to change from cutting thin sheet to thicker work without changing lenses; and its z-axis capability allowing cutting of parts to 200 mm tall.
In addition to introducing the Brevis 1212 AJ, Amada, which earlier this year celebrated the manufacture of the 1000th laser-cutting machine at its Brea, CA facility, demonstrated its new EML 2515 AJ punch-laser combination machine via a live stream from its Schaumburg (IL) Solution Center. Features include a 3-kW fiber laser, 33-ton punch with 1.5-in. adjustable stroke and 55 tool stations, a combined work area (with repositioning) of 60 by 120 in., 14.9-in. z-axis, and maximum material thickness of 0.25 in. An optional automatic punch-die changer enables continuous processing.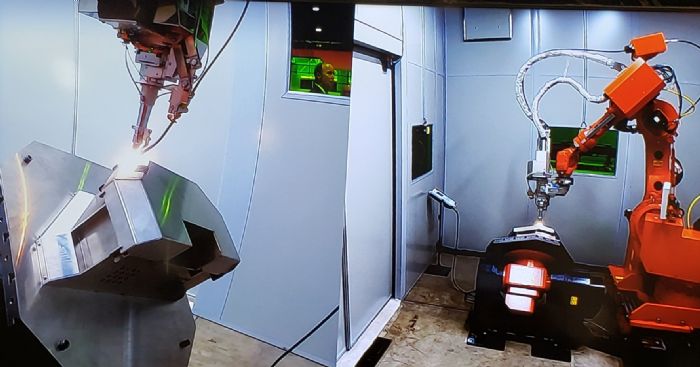 Last but not least, Amada showcased its FLW 3000 Ensis M3 robotic laser-welding system for showgoers, with automatic beam focus and Teaching Assist feature that uses a camera to ensure the laser stays on its intended, targeted weld path.
See also: Amada North America, Inc
Technologies: Cutting