Quick ROI on Plasma Cutting Machine for KS Fabricator
August 25, 2020
With an aging waterjet cutting machine proving time consuming and costly to set up and operate, Aaron's Repair & Supply, Great Bend, KS, needed a new option. To the rescue, a Hornet Cutting Systems HD 5 by 12-ft. plasma cutting machine.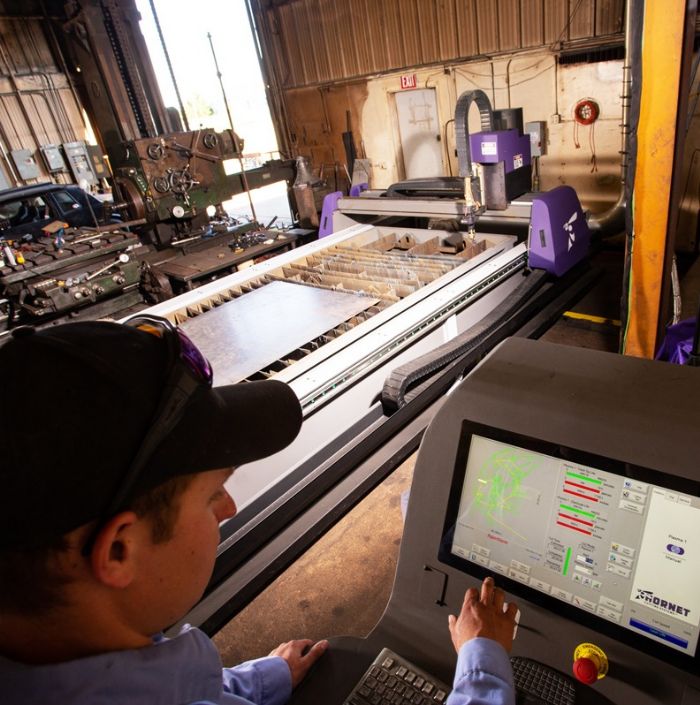 The fabricator, opening in 1979 as a repair shop for heavy trucks, has expanded to serve oil, mining, agriculture and meatpacking and other industries. Aaron's, founded by Aaron Maresch, with his grandson Devon Nelson apprenticing to one day take over the family business, also provides custom fabrication and manufacturing, along with tool sales, rentals and parts for heavy machinery.
Aaron's owned a waterjet cutter purchased as military surplus, but it proved time-consuming and costly for many tasks.
"It took so much time to keep online because of the pump," Nelson says, "and was so expensive to maintain."
The shop needed an upgrade to remain competitive, leading Maresch and Nelson to Hornet Cutting Systems last year where they found the new plasma cutting machine. Its purchase has enabled Aaron's to take on more projects for more customers—and different types of customers—than before, according to Nelson.
"The machine can handle large, raw stock," he explains, "so we can cut plate down to size, then put it on three-axis CNC mills.
Doing so allowed Aaron's to add new services, which attracted new projects from new customers.
"The Hornet HD was a necessary upgrade," Nelson says, noting that its lower operating cost will deliver an ROI of less than two years.
See also: Hornet Cutting Systems
Technologies: Cutting