Shifting to the Cloud to Increase Flexibility, Security
We can expect more manufacturers to make the leap to the cloud in coming years to better serve today's remote/ hybrid workforce. With increased flexibility and security, cloud ERP solutions provide small and midsized manufacturers a secure environment at an affordable rate, compared to operating its servers inhouse.
Additionally, cloud-ERP solutions are easy to manage and provide real-time access to business operations and data from any location at any time, which nearly 60 percent of respondents from the ECI Software Solutions survey say is the top benefit of cloud-based ERP.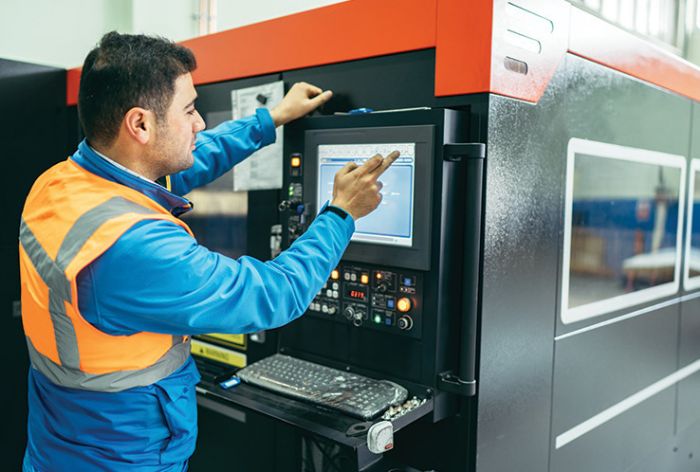 This flexibility helps manufacturers navigate complex operations pertaining to supply-chain and inventory logistics, aiding in tracking material movements, and automating routine tasks. While some manufacturers may always prefer a hybrid solution, the desire to shift to cloud-ERP solutions is stronger than ever.
Intelligent ERP Becomes More Accessible, Optimizing Workflow
This year, augmented intelligence tools will become more accessible to the average worker, but we're a long way from universal adoption. The integration of artificial intelligence and machine learning continue to produce more intelligent systems, which causes powerful business data to be transferred into actionable insights for process improvements.
Using an intelligent ERP solution that includes automation tools allows manufacturers to achieve new levels of efficiency, by eliminating the need to complete repetitive tasks and enabling individuals to focus on more valued-added efforts. As this technology continues to become more mainstream, we should expect to see more use cases from small and midsized manufacturers.
Expanding ERP and 3D Printing to Support Testing and Modifications
With the ongoing, challenging supply chain issues resulting from the pandemic, we're seeing a strong influence of 3D printing capabilities on the development of ERP systems. For manufacturers, ERP software will become more adaptable to support material and capacity planning, along with lead-time determination to meet the needs of these additive manufacturing production environments.
The trend toward integration ultimately helps create seamless modification and testing of parts for manufacturers through its digital thread—which provides driving insights for continuous process and product optimization through a single strand of data.
ERP technology will continue to evolve in 2022 to better serve customer demands and the latest market challenges. With fluctuating supply chains, a shortage of talent and growing customer expectations here to stay for the foreseeable future, manufacturers must continue exploring the latest ERP trends to ensure the most up-to-date tech stack, allowing for a successful year ahead. MF
See also: ECI Software Solutions
Technologies: Management