Robust Architecture, Innovative Software
To address the lack of editing capability, RMS now relies on MJC's software suite for CNC metal-spinning programming, run on a Siemens 840D CNC control system. Software-suite components include the SpinCad tool-path-creation utility that uses point-and-click technology in an icon-driven Windows format, and requires no prior CNC control experience. Its graphic interface allows simplified edits of spin passes and the ability to grab and move points or whole passes. Another timesaver, the Blend feature, creates multiple passes from a given start and ending pass.
The suite's SetupPro utility, explains Ratliff, simplifies machine setup and adjustment of CNC offsets. On a single custom screen, SetupPro allows the setting of angles and offsets, and brings all required information into one screen to eliminate confusing screen navigation and excessive keypad entries.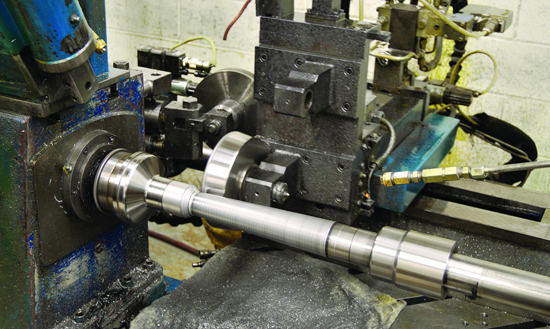 "With the (retrofits to new metal-spinning) software and controls, we have seen productivity gains in all areas of machine operation, and gained a newfound sense of confidence in the machines' capabilities," says RMS president Mike Ratliff.

The ability to set angles and offsets, says MJC president Carl Lorentzen, means that programs, once developed, can be reused even if changes occur to slide location, slide angle and roller dimension, due to wear, polishing or resurfacing. With RMS's previous control setup, changes to programs were not possible. New programs had to be created from scratch.

ZonePro software rounds out the suite, using joysticks for teach-in/playback control. Users can edit and save spin passes, mandrel profiles and protection zones created via ZonePro into SpinCad. Saving and editing functions mean no need to reteach when setting up repeat jobs. For short production runs, the software immediately can play back spin passes.

Bullish on Ability to Edit

Improvements in teach-in technology offered in the control retrofit, namely the ability to edit, are a major plus for RMS.

About Ratliff Metal Spinning

Ratliff Metal Spinning (RMS) provides parts for lighting, restaurant ventilation, commercial foodservice, aircraft and agricultural clients, among others. Materials worked include aluminum and stainless steels of various grades, carbon steel, aluminized and galvanized steel, brass and copper, in thicknesses to about 1⁄8 in. Part runs at RMS range from one-off prototypes and special fabrications to as many as 3000.

Backing the firm's seven spinning workcells are 10 manual spinning lathes with swing capacities to 82 in. and a variety of tooling and machining equipment including a CNC machine lathe, vertical mill, additional lathes, and grinding, drilling and cutting equipment. Ratliff also boasts a stocked roster of fabrication machinery including mechanical and hydraulic presses, shears, a press brake and a CNC turret punch press.


"In the old days, a user would teach-in, the software would record it and, ultimately, it would create a part program," explains Lorentzen. "But the user could never change the program after recording, and instead would have to teach-in all over again. Not anymore. This system allows corrections at any point after teach-in."

Adds Ratliff: "During programming, the ability to edit the traced mandrel and set position limits, to allow for material thinout and spinover, makes deep draws less daunting. And, the Microsoft Office-style program-editing features make it possible to reconstruct every element of a taught program, turning any sloppy, inefficient program into one you can be proud of. That program then can be transferred to another machine, eliminating the need to program the other machine at all.

"The best part," continues Ratliff, citing the biggest advantage to the new controls for his company: "All editing can be performed offline while the machine operates. This minimizes lost time due to program editing."

Another benefit of the control retrofits at RMS is the MJC Touch-Soft method, as Lorentzen calls it. This allows operators to 'eyeball' hydraulic slides in position, and then touch two positions on the mandrel. From those two touched positions, the software knows the exact location of the mandrel and adjusts the part program to produce the part. This allows repeat of programs and a steep drop in setup time and scrap. With this innovation, only minor adjustments may be required, with the first part being ideal or close to ideal, says Lorentzen. Before, if the mandrel was not positioned exactly as in the original program, a new program had to be taught-in.

"Now, users can be running part jobs in a few minutes instead of a few hours," Lorentzen says.

The ease of use and advantages of this capability impress Ratliff.

"During setups or roller changes, setting tool position is quick and accurate using the touch-off tool calibration," he explains. "Simply touch off on a 'known' location for each axis parameter, and push the button."

To ensure peak performance, machines outfitted with the new controls can be monitored in real-time from MJC's California headquarters, a feature that RMS employs. In addition, notes Lorentzen, Siemens architecture ensures long-term support.

The Payoff: Productivity, Flexibility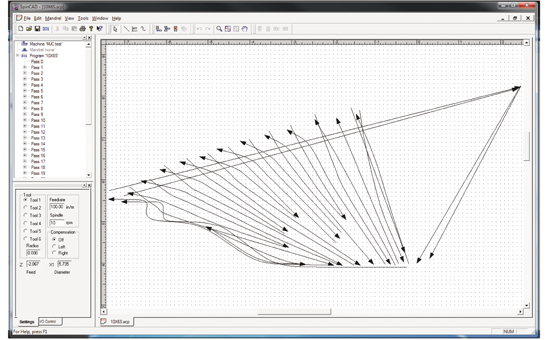 New software, as part of the controls retrofit packages at RMS, includes a tool-path-creation utility that allows simplified edits of spin passes and the ability to grab and move points or whole passes. The utility also creates multiple passes from a given start and ending pass.
What does all of this control improvement mean to RMS?
"With the retrofits to MJC software and controls, we have seen productivity gains in all areas of machine operation, and gained a newfound sense of confidence in the machines' capabilities," says Ratliff. "The combination of easy-to-use and understand controls, along with reliable versatility, has enabled us to realize the machines' true potential."
Via retrofitting, RMC increased slide-movement speeds by 30 percent, according to Ratliff.
"The increased speed results from the proportional valves and scales being controlled by a system that knows how to control the power, speed, direction and stopping parameters as well as sensitivity," he says. "All of that can be refined beyond the desire of any operator."
Further, with standardized controls RMS can train employees to operate multiple machines, adding flexibility to the operation and easing scheduling concerns.
"Now that we have common controls and operators trained to use them, we have reduced scheduling problems," Ratliff says. "We may have three machines that can run the same part, and if two are busy we have an open machine to which we simply can transfer the part. If the third machine already has been programmed for that part, we can run the job immediately." MF
Article contributed by MJC Engineering and Technology, Inc., Huntington Beach, CA: 714/890-0618;

www.mjcengineering.com
.
Industry-Related Terms:
Brass
,
Carbon Steel
,
CNC
,
Point
,
Polishing
,
Punch Press
,
Run
,
Scrap
,
Transfer
,
Turret
,
Dimension
,
Grinding
,
Mandrel
View Glossary of Metalforming Terms
Technologies: Other Processes