GE Additive Sets 2023 Second Half for Production Delivery of New Binder Jetting Line
October 24, 2022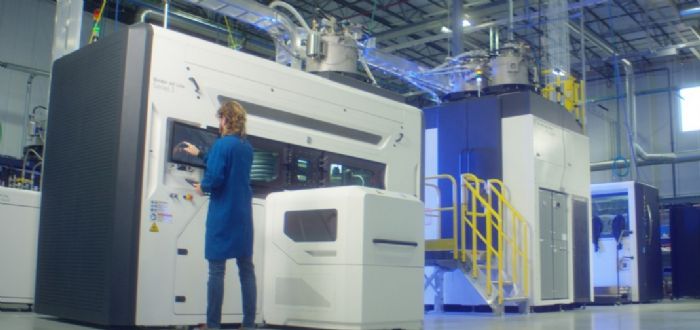 GE Additive has announced that production delivery of its new binder jetting line and Series 3 printer, designed for high-volume serial production, will commence in the second half of 2023 following 4 yr. of development and testing.
The Binder Jet Line Series 3 can additively manufacture complex, small and large parts repeatably and reliably, offer company officials, with material properties that exceed casting equivalents with achievable through-hole diameters and wall thicknesses of less than 500 μm. Through the development program, GE's Binder Jet technology reportedly has regularly proven the ability to successfully print and sinter large parts that meet dimensional and feature resolution tolerances for production, with demonstrated capability in (but not limited to) parts weighing to 25 kg in stainless steel, and no known limitations on maximum wall thickness.
Stated benefits of this line include the ability to:
Depowder intricate parts without destroying fine features, enabled by GE's proprietary binder systems

Sinter parts within the desired tolerances, enabled in part by GE Additive's Amp software's distortion prediction and compensation capability

Develop casting-equivalent or better high-quality parts more quickly than traditional methods

Print and sinter parts with low surface roughness.
Based on input from customers and partners during the technology development phase, GE Additive is focused on enabling the eventual deployment of 100-plus machine installations that will drive repeatable process quality, while minimizing operator contact with equipment and materials.
"During the Binder Jet Line Series 3 development phase, we sought out customers who could give us honest, real-world insights from their high-volume manufacturing environments," says Brian Birkmeyer, product line leader for Binder Jet at GE Additive. "We have taken their insights to complement our hands-on knowledge and experience of scaling additive production."
See also: GE Additive
Technologies: