Ergonomic Rotary Index Table for Measuring Arms
February 22, 2023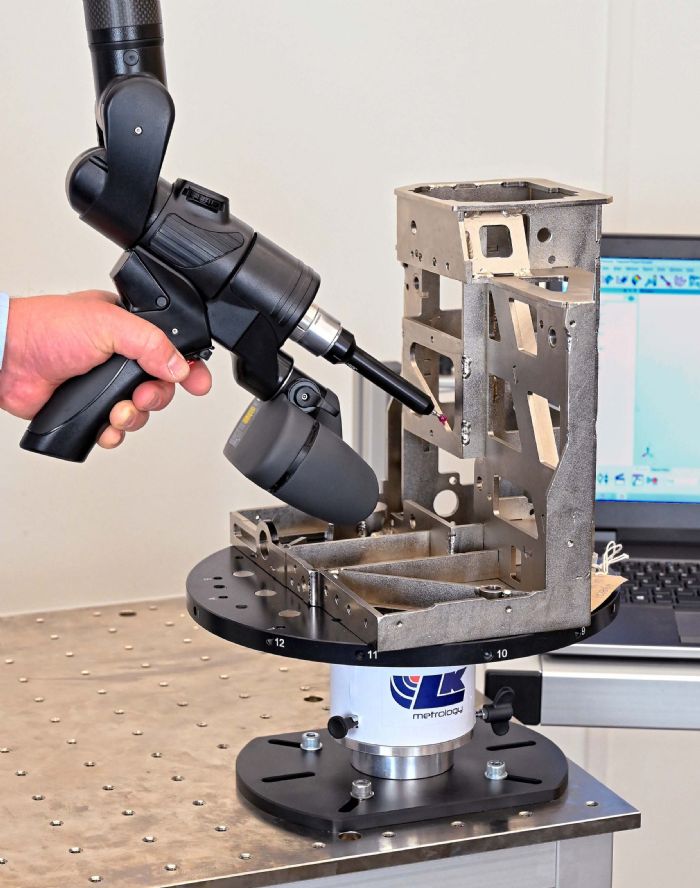 The new Freedom index table from LK Metrology reportedly can increase by 40 percent the speed at which a component can be inspected using a portable, multi-axis measuring arm as compared to measuring a static part. Not only does using the table make inspection more efficient, according to company officials, but also allows use of a smaller, less expensive arm to access all areas of a component—in effect increasing the effective measuring volume of any arm.
The table's rotation feature avoids having to relocate the arm to enable sufficient access to the back of the part, which would lengthen the measuring cycle and could introduce inaccuracy. Additionally, there's no operator fatigue due to repeatedly having to stretch to reach around the component.
Requiring no cables, the portable, manually operated metrology-grade index table is compatible with any make of portable measuring arm. The 300-mm- or optional 500-mm-dia. table features quick setup on a work surface, after which the operator secures the part to be inspected onto the surface with the aid of pre-drilled, threaded fixing holes or integral clamping magnets.
Similarly rapid: initial calibration of the start position via InnovMetric's PolyWorks|Inspector software. Randomly placed, alphanumerically labelled, fiducial dimples machined into the top of the table and around its periphery aid in locating. By probing three or more of these dimples, the software recognizes the irregular pattern and automatically calculates orientation. Then, simply click the on-screen Freedom Index Table macro in the software to update the coordinate system, and then continue the part inspection.