Quicker QC Testing via 3D-Inspection Robot Cell
December 8, 2020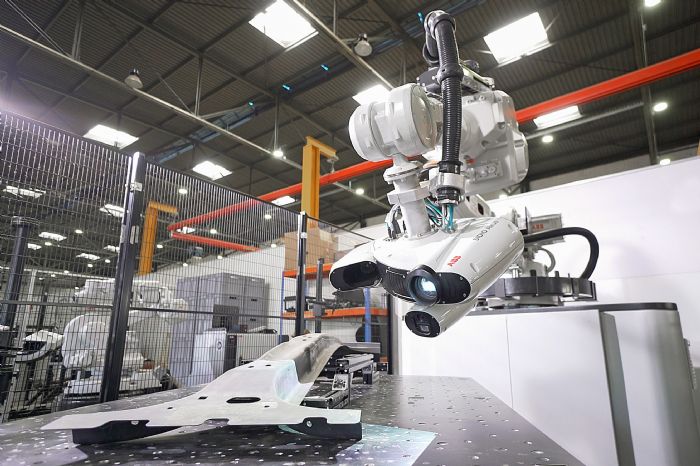 Reportedly capable of detecting defects of less than half the width of a human hair and imperceptible to the naked eye, ABB's new 3D quality inspection (3DQI) robot cell eliminates the need for time-consuming manual inspection while substantially reducing the likelihood of faults and errors. Key benefits of the 3DQI cell include its combined speed, accuracy to below 100 μm and flexibility provided by its modular design, with users able to create a solution tailored to their exact requirements.
The 3DQI is conceived for offline testing, using a single, 3D white-light optical sensor to scan millions of 3D points per shot. A detailed digital model of the part being inspected can be created, then compared to an original CAD drawing. All of this can be accomplished 10 times faster than with traditional CMMs, according to company officials. The sensor can be carried by any robot with a handling capacity greater than 20 kg, and is compatible with a range of robots, tracks and rotary tables--so no limits on testing-part dimensions.
"Traditional testing methods are slow and capture the potential quality mistakes often too late in the process," says Tanja Vainio, managing director of the Auto Tier One business line for ABB Robotics. "Our 3DQI cell automates this process, far exceeding the capabilities of traditional inspection in speed, accuracy and repeatability. We've developed and piloted our 3DQI technology in automotive applications, including with automotive supplier Benteler, and the 3DQI solution has been proven to improve product quality, throughput and safety, while freeing up skilled labor to be deployed on other tasks."
The cell also provides comprehensive data analysis processed in real time. Digital records support traceability, note ABB Robotics officials, which is needed in several industries, as well as enabling users to adapt processes to prevent further failures, thus improving overall quality and productivity. ABB's RobotStudio Sidio Planner Power Pack reportedly allows for simple and intuitive programming, enabling new users to quickly become familiar with using the 3DQI.
See also: ABB
Technologies: Quality Control