Case Study—Safe Coil Storage and Improved Inventory Control for Phoenix Metals
May 12, 2021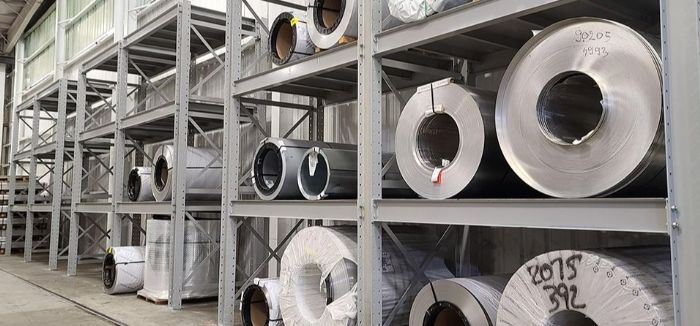 Dealing with storage constraints and inventory damage challenges many manufacturers, and the Phoenix Metals steel-service center in Peachtree Corners, GA (near Atlanta), is no exception. To overcome its challenges with coil storage, the firm recently invested in vertical rack systems to store its inventory of sheet metal coils safely and efficiently.
When the team at Phoenix Metals began to research racking solutions to store coils inside and outside of its building, it considered having the racks designed and fabricated locally, an option that exceeded the project budget. Additionally, further investigation revealed that the racks would not meet the required load ratings and would not necessarily be designed using industry-accepted engineering principles.
A second option considered: pallet racks, but the team quickly discovered that these types of racks also could not support the necessary loads.
Phoenix management then reached out to Ross Technology, Leola, PA, to review its Dexco racking solutions. Dexco sales engineer Tracy Buck, when reviewing the coil-storage challenges at the Georgia facility, found that it was storing coils in multiple locations on the shop floor. In some cases, coils easily moved and rolled across the floor, causing damage and creating a safety hazard. Inventory management also caused problems—when workers had to access the coils, they often would move and shift the inventory around, wasting valuable production time and risking damage to the material.