Cut 3D Parts After They've Been Formed
October 23, 2020
Cut and trim bent tubes, hydroformed components, tubular assemblies, pre-welded or deep-drawn parts, and flat or stamped plates with maximum efficiency and excellent cut quality every time. With BLM Group's family of 3D laser cutting solutions, robots eliminate manual repositioning to fabricate very complex parts in a single process with short cycle times, minimizing part cost while improving quality.
Three-dimensional laser cutting offers the following advantages:
Flexibility:

Cut a variety of 3D shapes in different materials and thicknesses

.

Productivity: Faster cutting speeds, especially on thin materials, combined with automatic material handling offers significant advantages in terms of competitiveness.

Accuracy: Laser cutting concentrates a great deal of power in an extremely small area, allowing for a much thinner and faster cut. The surface of the cut edge is much less inclined than with plasma, and rework is eliminated.
LT-Free—Five Axis
The LT-FREE five-axis fiber laser cutting machine is perfect for processing any 3D part with high precision and excellent cut quality. Suited to all production needs, it combines production start-up speed with the possibility of producing an almost unlimited variety of three-dimensional profiles.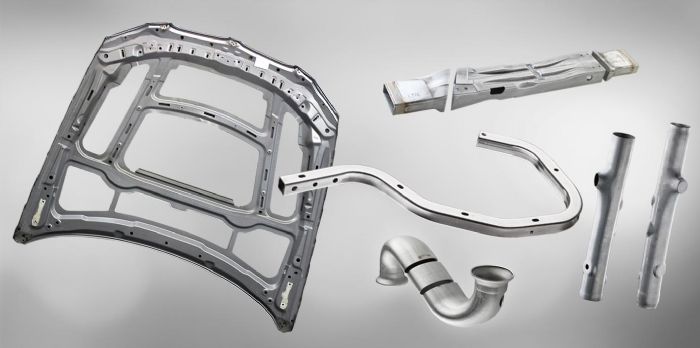 The LT-Free replaces traditional machining operations such as cutting, drilling, punching and milling, allowing a single machine to perform all processes. This eliminates setup time, reduces material handling, eliminates work-in-progress inventory and downsizes space needed for storage, allowing metal formers to get the finished part in a single work cycle.