Mazak Optonics Showcases New 15-kW Laser Cutting Machine at Newly Expanded IL Headquarters
May 4, 2022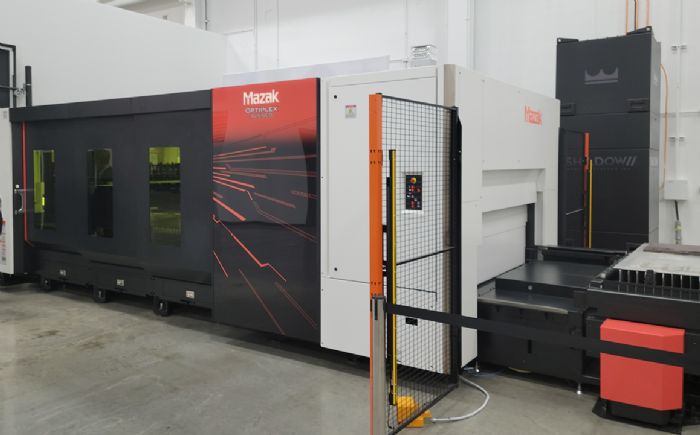 With the expansion of its North American headquarters completed as of this past March, Mazak Optonics recently hosted an open house, attended by MetalForming magazine, to showcase the expanded North America Laser Technology Center as well as introduce its Optiplex 3015 NEO laser cutting machine (see video).
The center's additional 20,000 sq. ft. of capacity helps facilitate Mazak Optonics' goal of enhancing customer support, while continuing research and developing new laser and automation products. Specific improvements related to the expansion include a new auditorium for customer training, and increased warehouse capacity as well as an updated inventory-management system to support supply of replacement parts. And, the modern research and development center reinforces Mazak's commitment to consistently innovate and offer the latest in laser-cutting technology, according to company officials. Cited as such an example, the 15-kW Optiplex 3015 NEO, housed in the center's technology showroom along with other 2D and 3D laser cutting machines and related Industry 4.0 technology.
Promoted as a next-generation laser cutting machine, the Optiplex 3015 NEO includes technology that allows increased control of beam shape and beam diameter. The machine automatically adjusts beam diameter to optimally cut various materials, and beam shape to control the concentration and power density of the laser beam. The result, according to AL Bohlen, Mazak Optonics president, who provided a detailed overview of the science behind this technology to open-house attendees, is improved cut speed and cut quality for a wide range of materials. Other keys to machine performance noted by Bohlen include use of variable power distribution and the advanced Mazak MCT3 cutting head. All of this, he explained, allows the 15-kW machine to deliver faster cutting speeds than machines offering even greater power levels, and significantly reduced cost of operation when employing high-pressure air cutting.