Prima Showcases Lasers, Punch-Laser Combos and Automation Solutions
November 6, 2023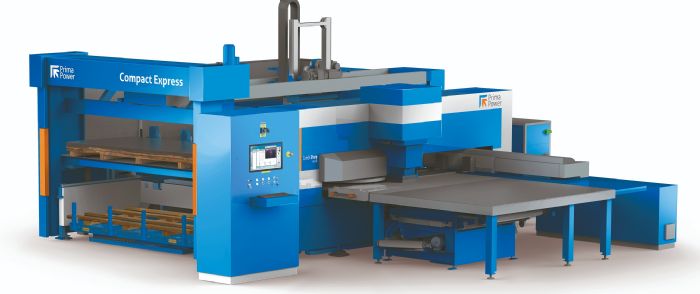 As seen at FABTECH...Prima Power showcased its integrated automation solutions, designed to meet customers' current challenges and future growth. For flexible automatic laser cutting, the firm displayed the Laser Genius+ with Compact Server automatic loading/unloading device and PSR 2D picking and stacking robot. Laser Genius+ is a plug-and-play machine with short installation times and a symmetrical and reversible layout that improves ergonomics and eases integration into any production context. Prima had the machine equipped with a two-shelf Compact Server automatic loading and unloading device for raw and processed sheets and an additional loading/unloading station.
Also in the booth: the Combi Sharp 1530 combination punch-laser with the Compact Express material loading and unloading device (shown here), making the machine an automated and efficient production cell with a small footprint. And, Prima Power also displayed its BCe Smart 2220 panel-bending machine, which can be integrated with an industrial robot. With the robotized bending cell, the process can be fully automated, guaranteeing high repeatability of product quality and a combination of productivity and flexibility.
See also: Prima Power North America, Inc.
Technologies: Cutting