Streamlined Part Separating, Picking and Sorting Minimizes Laser-Cut Part Costs
October 13, 2021
At FABTECH, Trumpf displayed what it calls "Smart Solutions"--software and hardware needed to drive the profitability of sheet metal fabricating operations. When it comes to laser cutting, the focus not only is on laser power and cutting speed; we're talking minimizing part costs by paying attention to what happens after the cut.
"Profitability comes when shops optimize how operators spend their time," Trumpf TruLaser product manager Salay Quaranta tells MetalForming, "by using technology that will reduce the time spent removing parts from nests and picking and sorting them, and minimizing the amount of rework needed to clean up cut edges."
Rather than display and demonstrate machines—lasers, press brakes and the like—at its FABTECH booth, Trumpf displayed technology virtually via live feeds to its locations around the country, including its Connecticut headquarters and its Chicagoland Smart Factory (which, by the way, celebrated its fourth birthday on Sept. 12, just a day before FABTECH's opening day). A Smart Solution focal point: new nano-joint technology that impressively promises to slash the time needed to separate parts from nests by as much as 90 percent, Salay says, compared to more commonly used micro joints.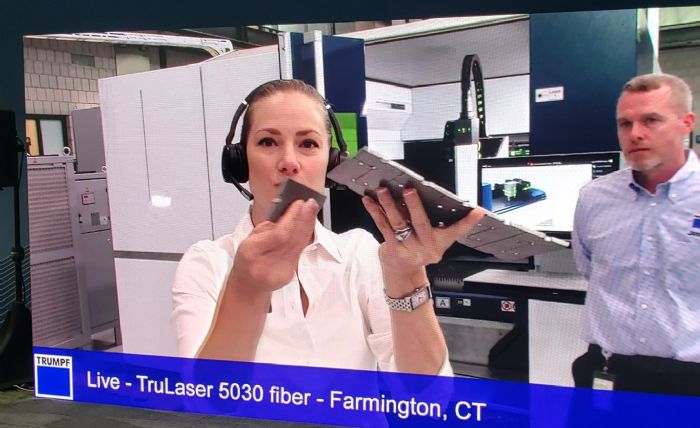 As described to MetalForming by Brett Thompson, Trumpf laser technologies and sales consulting manager, "the power-control interface to our TruDisk laser, called TruControl, when combined with the closed-loop power-measurement system can ramp laser power very quickly. This allows us to replace micro joints with nano joints, which tab only the bottom edge of the cut rather than the entire thickness.
"These nano joints," Thompson continues, "typically only are about 15 percent of the sheet thickness and around 3 mm long. Compared to through-thickness micro joints, they allow an operator to break parts free from the nest in a fraction of the time."