Five-Axis AP&T SpeedFeeders Automate Tandem Line at Spartanburg Steel
June 28, 2022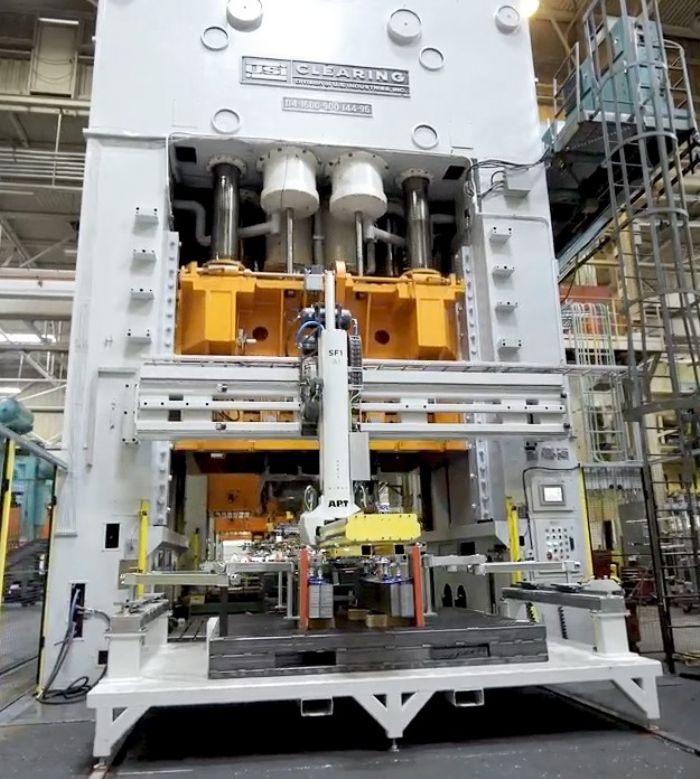 Spartanburg Steel Products Inc., Spartanburg, SC, a manufacturer of stamped parts and assemblies for cars, trucks and agricultural machinery, has automated a five-press tandem line to shorten cycle times and increase flexibility. Rather than use conventional industrial robots to automate the line, the firm opted for a solution based on the newest generation of five-axis SpeedFeeders from AP&T North America.
"In total, we installed six SpeedFeeders for blank feeding, transfer of parts between the five presses, and unloading," says Adam Allansson, president of AP&T North America. "As we were doing our work, Spartanburg Steel upgraded the presses in the line and its tool-exchange system. We cooperated closely with other suppliers to ensure the best possible total solution in the shortest possible time."
Since the fall of 2019, the upgraded five-press tandem line has delivered according to expectations. It is regularly serviced by AP&T technicians, and new staff at Spartanburg Steel have been trained in operation and safety by AP&T.
"We installed the automation to improve safety on the line," says Chad Raynes, vice president of business development and engineering at Spartanburg Steel. "This also has resulted in better efficiency at a lower cost. We plan to automate additional lines in the future, specifically a tandem line in 2023."
See also: AP&T North America Inc.
Technologies: Pressroom Automation