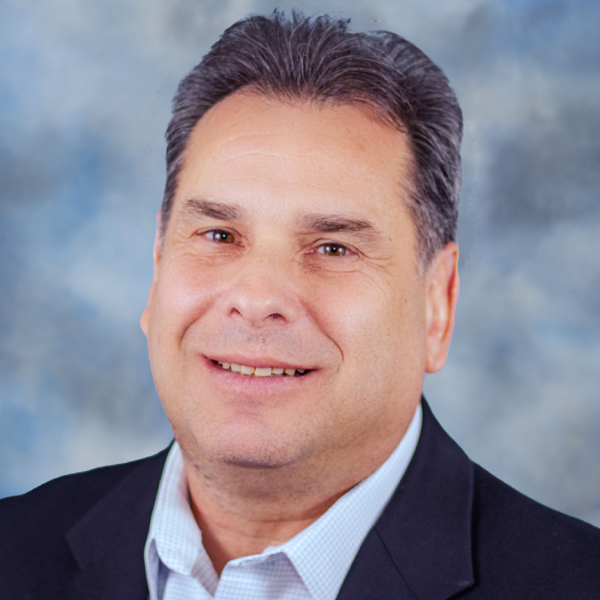 Brad Kuvin
PMA Your Essential Partner
November 1, 2010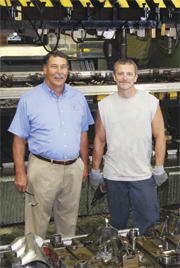 In addition to the 1500-ton Eagle press displayed on the cover, Pridgeon & Clay also boasts this 1000-ton 180- by 84-in. Eagle press, which among other jobs runs the 10-station transfer die seen in the foreground. Shown with Bob Clay is die technician Brad Cardwell, a 20-yr. employee.
After Bob Clay shared with me his theme—PMA—Your Essential Partner—for his coming year at the helm of the Precision Metalforming Association, I took the liberty of crafting a definition for the term "Essential Partner." Here's what I came up with:
Two or more parties united in a relationship that results in the exchange of products and services perceived as absolutely necessary to the prosperity of all involved parties.
Clay, CEO of metalforming company Pridgeon & Clay, headquartered in Grand Rapids, MI, says that his company works to be an essential partner to its customers. The company is a Tier One and Tier Two automotive supplier, primarily of power-train and chassis components and assemblies.
"We mean more to our customers than just being an excellent supplier, in part by providing services for advanced engineering," Clay stresses, "services that few other companies can offer. That's how we can ensure we're an essential partner in the industry, one that brings unique value and is perceived as virtually indispensable.
"That's my goal for PMA," Clay continues. "We'll work to develop key offerings that come as part of being dues-paying member companies, augmented by state-of-the-art products and services that businesses deem essential."
As CEO, Clay encourages innovation and relies on his staff to carryout his mission, and he expects the same from PMA. Along those lines, Clay notes one important new member benefit from the association, an online center for safety and loss-control resources called myPMA Risk Manager. A comprehensive library (in English and Spanish) of nearly 2000 safety policies and procedures, posters and other training documents, myPMA Risk Manager allows member companies to build custom loss-prevention programs.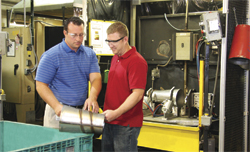 Pridgeon & Clay designed and built this robotic welding cell used to manufacture an auger mixer assembly that goes into the anti-pollution system of heavy diesel trucks. The cell features a Fanuc welding robot and Fronius arc-welding equipment. Shown is Keith O'Brien, vice president of global operations (left), and John Beld, production team leader.
"I encourage the magazine's readers to log on to the association's new website, www.pma.org, to learn more about this important member benefit," says Clay, "and to visit the site regularly to stay informed on other new services as they're introduced."
Networking and Advocacy
While several Pridgeon & Clay employees are active participants taking advantage of a range of opportunities offered by PMA, Clay appreciates two particular member benefits: networking and advocacy.
"Working in sales (before rising to the level of CEO), I understood well the value of networking with my customers, but not until I attended a PMA annual meeting (in 2003) did I discover how valuable networking with my peers could be," shares Clay.
Soon after that experience, Clay put both feet firmly in the PMA waters by attending a Washington, D.C., fly-in event, to lobby Congress during the era of President Bush's steel tariffs.