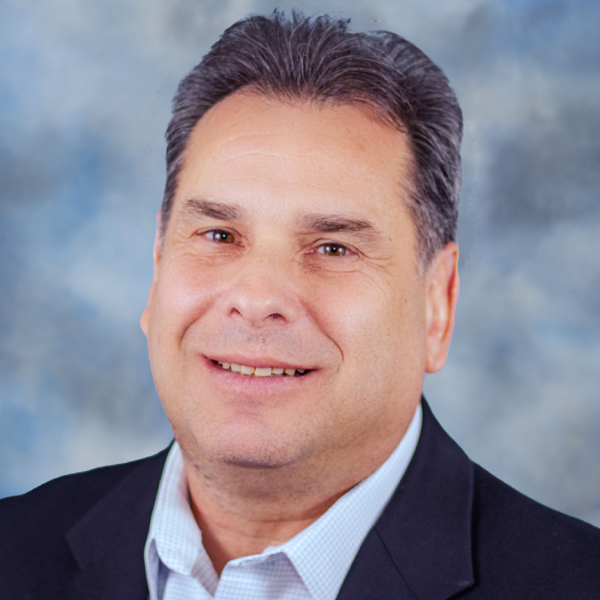 Brad Kuvin
Robots Slide and Glide
November 1, 2009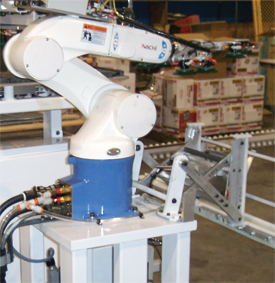 Each robot in the HON Co. pressroom tends two presses, one tooled for stamping legal-size drawer parts, the other for letter-size parts. Robots mount on a manually adjustable riser assembly that rides a floor-mounted track to access the two presses, with a hard stop and locking mechanism to secure the robot at each press.
A vigorous rapid-continuous-improvement (RCI) program directed toward ongoing training and implementation of productivity-enhancing manufacturing projects has earned The HON Co. plant in Cedartown, GA, heaps of industry recognition. The list of awards
One Powerful Lean Tool: 3P

3P production-preparation processes such as the press-automation project undertaken at The HON Co. plant in Cedartown, GA, focus on eliminating waste through product and process design. Lean consultants suggest that the best to tackle such projects is to involve a diverse group of people in a series of brainstorming sessions to identify and discuss alternative s to meet a specific goal, such as improving ergonomics or increasing throughput. The team should comprise designers, engineers from multiple disciplines, operators and operations managers. Typically, these projects, which start with a clean sheet of paper, result in bigger paybacks than do the incremental improvements resulting from kaizen events. The focus is on project management and waste reduction, or elimination.

Once the 3P team has selected its preferred solution to the task at hand, it then works to demonstrate the flow of raw material to finished product, using diagrams and sketches. Then, as did the press-automation team at HON, it constructs a prototype to simulate the process to verify that it will operate as designed and produce the expected results. Finally, the team develops an implementation plan, complete with resource requirements and assignment of responsibilities.





goes on and on for the plant and for its parent, HNI Corp., touted as the second-largest manufacturer of office furniture in the world; HON makes panel systems, desks, storage files and tables. HNI has earned recognition as one of the 50 best manufacturing companies (IndustryWeek magazine), and it was named one of America's Most Admired Companies in the furniture industry in 2008 by Fortune magazine. IndustryWeek named the HON plant in Cedartown one of the 10 best manufacturing facilities in North America in 2005; the plant won a Shingo Prize for Excellence in Manufacturing in 2007; and it earned Georgia Manufacturer of the Year in 2006 from the Georgia Department of Technical and Adult Education and the Georgia Department of Economic Development. And that's just the beginning—other awards have come for the firm's expertise and performance in design, pollution control and organizational excellence.
RCI drives all of the innovative ideas that pour out of The HON Co.'s 600 employees, as they strive to improve safety and quality, reduce costs and improve productivity.
Stamping-Press Productivity Project
The HON steel-fabrication department supplies four assembly lines in the plant, two of which manufacture vertical filing cabinets, one which makes metal desks, and a fourth line that assembles lateral files and storage cases, shelf files and bookcases. Early in 2000, an RCI project had a HON work team focused on improving the safety and productivity of its stamping-press operations within the steel-fabrication department. There, presses hem 0.022-in.-thick mild-steel blanks for drawer fronts, in two sizes to accommodate letter- or legal-size files. Hand feeding of blanks into two-station transfer dies at a production rate of 400/hr. taxed the firm's press operators, who used gripper wands to move the blanks rather than reach into the dies. The process proved safer than hand feeding to be sure, but manipulating blank after blank on the end of the wands led to ergonomics issues—carpal tunnel syndrome to be exact.
"An RCI project to improve the three press lines that hem filing-cabinet drawer-front blanks led us to investigate the use of robots to handle the blanks," recalls HON maintenance engineer Burt Coffman. Noting his skepticism at the time, Coffman says, "I didn't think there was any that this would work. But the robots we've put on those lines are unreal. Productivity is fantastic, and they don't take breaks."
A 3P (production preparation process) project proved out the robotic press-tending cell arrangement and HON brought in local robot integrator TEC Automation, Inc., Canton, GA, to manage the project. The first press robot went online late in 2000, a second in 2001, the third in 2003, and the plant will fire up its fourth press-tending robot before the end of 2009. Each robot tends two presses, one tooled for stamping legal-size drawer parts, the other for letter-size parts. Robots rides a track to access the two presses, with a hard stop and locking mechanism to secure the robot at the press. Presses are 100- and 150-ton models with 8-in. stroke to accommodate the robot end-of-arm tooling. Robots are ABB (one) and Nachi (three) six-axis pedestal-mounted units.