Women of Excellence in the Metalforming Industry
November 1, 2016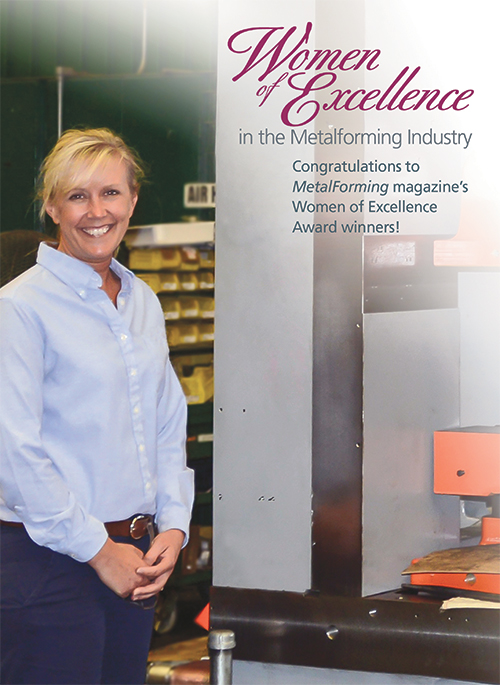 This inaugural recognition acknowledges those, from shop floor to top floor, who have demonstrated a commitment to the metalforming and fabricating industry and have distinguished themselves through their achievements and daily dedication.
On the following pages, MetalForming profiles all 30 winners, and we also recognize 19 women who have earned honorable mention. Quality control, corporate, operations, setup, production, tooling…name a metalforming task or job classification and it likely is represented on this list.
"As an industry leader, we feel that it is MetalForming magazine's duty to recognize these industry leaders, the women who walk the walk each and every day to ensure success for their companies and serve as inspiration to those who one day will follow them," says Andrew Flando, publisher of MetalForming. "We were overwhelmed by the number of nominees from manufacturing and supplier companies. All of the nominees were excellent, and we had a challenging time in selecting the 30 winners."
With input from the Precision Metalforming Association and Women in Manufacturing, MetalForming has identified a comprehensive list of deserving candidates that not only show how vital women are to manufacturing success, but serve to inspire the next generation of difference makers.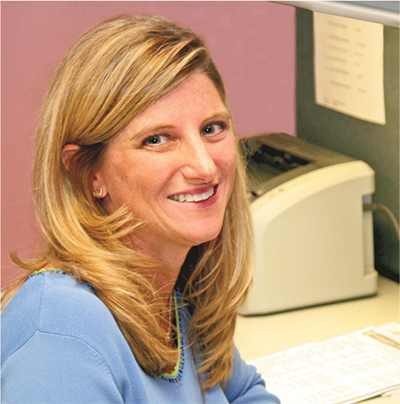 "We are impressed and inspired by the women celebrated in this section," says Allison Grealis, president and founder of Women in Manufacturing and vice president of Association Services for the Precision Metalforming Association. "We hope that their stories and examples of success will encourage greater numbers of women to enter the industry and pursue challenging positions in metalforming."
Please join the Precision Metalforming Association, MetalForming magazine and Women in Manufacturing again in recognizing and congratulating these 2016 Women of Excellence Award winners!
Women in Manufacturing: Dedicated to Inspiring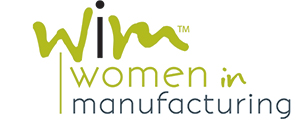 Women in Manufacturing (WiM) is a national association, with more than 650 members, dedicated to supporting, promoting and inspiring women who have chosen a career in the manufacturing industry. The group encourages the engagement of women who want to share perspectives, gain cutting-edge manufacturing information, improve leadership and communication skills, participate in sponsoring programs, and network with peers.

WiM encompasses manufacturers of all types and welcomes women from every job function—from production to the C-suite. Members benefit from exclusive access to regional and national programming, networking opportunities, bimonthly professional-development webinars, a customized employment tool called WiMWorks, online discussion communities, the quarterly IMPACT e-newsletter, and a robust searchable directory.
Yvette Archuleta-Tudury
Owner/CEO, Vast Industries, Morgan City, LA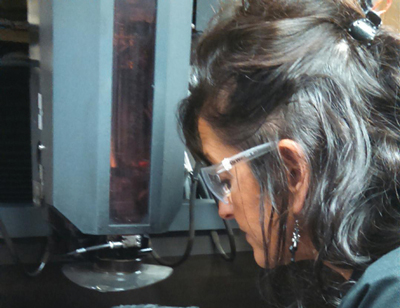 "Definitely out of the ordinary!" That's how Yvette is described by her nominator, who notes that she is more comfortable on the shop floor than in her office. Having worked with metals since her high school days, the 29-yr. industry veteran continues today, operating her own wire-EDM machine while performing metal-product prototyping and reverse-engineering at every opportunity, all the while overseeing the day-to-day operations of Vast Industries. She has designed and developed parts for the motorcycle, oil and gas industry, culinary, and marine industries. With her hot-pink safety glasses, she handles one-ton trucks as well as anyone, and makes sure that parts are not only in tolerance, but look cosmetically correct before leaving the plant.
"Manufacturing is an amazing and rewarding career! Not only are we creating parts that are shipped around the world, but we are operating the latest-technology machinery to produce those parts. The constantly changing climate challenges our minds and our entire organizations to continually improve on processes, products and ourselves. That is what I love about what I do!"
Alycia Paulson
Sorting Supervisor, Feintool Cincinnati, Inc., Cincinnati, OH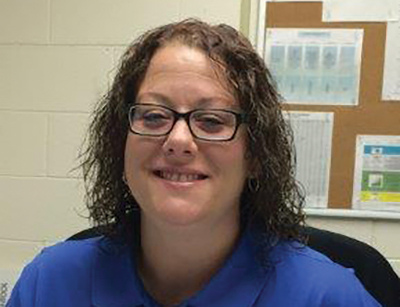 Alycia has grown from a being a direct contributor to a supervisor and leader of her department, using her 19 years of experience and knowledge of each manufacturing operation to improve not only the department she is responsible for, but the departments around her as well. A leader by example, Alycia has been integral in transforming her 90-person department into a clearly structured and organized group in spite of the department's difficult demands.
Through leadership, dedication and advanced planning, she has continued to lead her team through the challenges of day-to-day operations while focused on continuous improvement.
"I feel like being a woman in a predominantly male career is a challenge. I started when I was 20 years old and really had no idea that this world existed. Over the years I have learned a great deal about manufacturing and fineblanking technology. I basically grew up at Feintool and along the way developed the skills and knowledge I use today as a supervisor. I would recommend this career to other women who love to challenge themselves. It is a very demanding career and you need to have a strong mind to overcome some of the stressful situations you will endure. With that being said, I love my job and I take extreme pride in how far I have come in this journey. I'm looking forward to the future with Feintool."
Barbara Gallonio