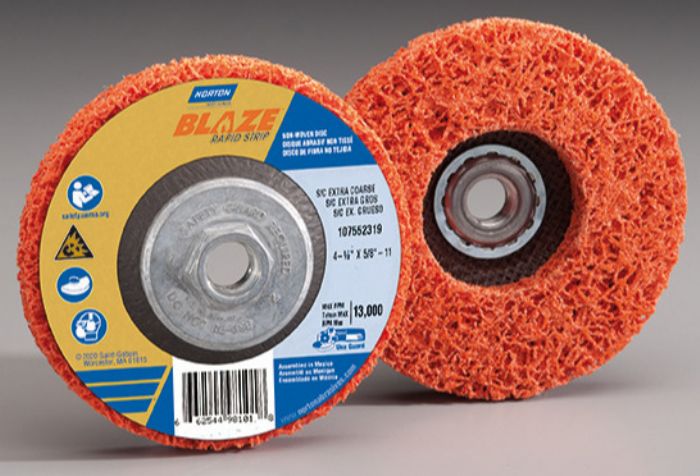 Also new: Norton Vortex Rapid Blend aluminum-oxide non-woven depressed-center discs feature a proprietary engineered Vortex aluminum-oxide agglomerated grain that performs the medium-to-fine grit steps of traditional aluminum-oxide discs. They feature a thick nylon web for reportedly twice the life and faster finishing compared to traditional aluminum-oxide discs, with minimal shedding. And, a special resin composition resists shedding when used on sharp edges, making the discs ideal for deburring.
Product-Development Work with New, Compact Laser-Cutting Machine
Packed with metal fabrication equipment from all of its product groups, Amada used the stage to debut (to the North American market) its Brevis 1212 AJ (pictured), a compact 3-kW fiber-laser cutting machine that occupies a trim 8 by 10-ft. footprint and proves ideal, we learned from Amada representatives, for product and process development. It's aimed at companies cutting parts as large as 4 by 4 ft., and seeking high-speed cutting with easy material loading. And, with the addition of a rotary index, it can process tube and pipe as well. Spying the machine on the show floor, we learned of its ability to nitrogen-cut reflective materials such as copper and aluminum alloys; to change from cutting thin sheet to thicker work without changing lenses; and its Z-axis capability allowing cutting of parts to 200 mm tall.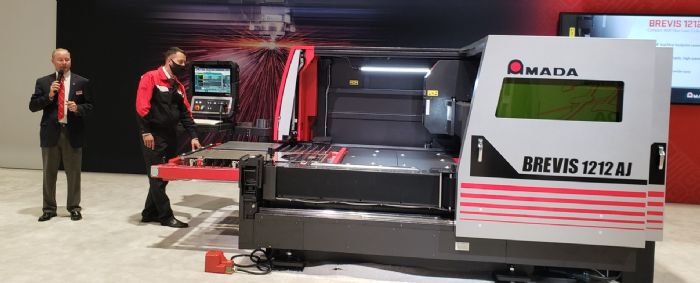 In addition to introducing the Brevis 1212 AJ, Amada, which earlier this year celebrated the manufacture of the 1000th laser-cutting machine at its Brea, CA facility, demonstrated its new EML 2515 AJ punch-laser combination machine via a live stream from its Schaumburg (IL) Solution Center. Features include a 3-kW fiber laser, 33-ton punch with 1.5-in. adjustable stroke and 55 tool stations, a combined work area (with repositioning) of 60 by 120 in., 14.9-in. Z axis, and maximum material thickness of 0.25 in. An optional automatic punch-die changer enables continuous processing.
Last but not least, Amada showcased its FLW 3000 Ensis M3 robotic laser-welding system for showgoers, with automatic beam focus and Teaching Assist feature that uses a camera to ensure the laser stays on its intended, targeted weld path.
Single-Piece Cartridge Consumable for New Air-Plasma Series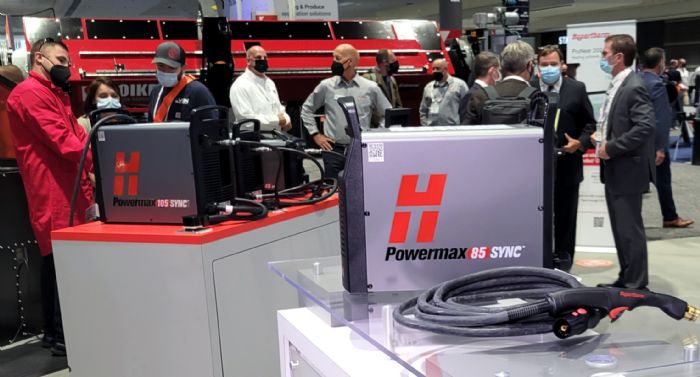 Hypertherm unveiled its Powermax Sync series of handheld air-plasma systems, including a unique single-piece cartridge consumable. The Powermax65/85/105 systems feature built-in intelligence, with the series and its SmartSync torch replacing the traditional five-piece consumable stack with a single color-coded cartridge. Technology embedded in each cartridge automatically sets the correct amperage, air pressure and operating mode, according to Hypertherm officials, and informs operators when a new cartridge is needed. Additionally, SmartSync torch controls allow operators to adjust the amperage and change the cartridge without returning to the power supply.
The single-piece cartridge for Powermax systems reportedly lasts as much as twice as long and delivers cleaner cuts versus traditional consumables. The cartridge also can track data, such as starts and arc-on time, to identify trends and add efficiency to a user's operation.
"The Powermax Sync series' simplified operation serves to help fabricators address many of the toughest challenges they face today by eliminating operator errors, downtime, troubleshooting, waste and training time," says Erik Brine, general manager of Hypertherm's Powermax team, while noting that these system attributes help address skilled-labor shortages.
To provide for users of previous technology, Hypertherm engineers have developed an adapter for Duramax and Duramax Lock torches, enabling owners of the Powermax45 XP and Powermax65/85/105 to enjoy some benefits of the cartridge-consumable platform, such as faster change-outs, easier ordering and inventory tracking, longer life, and improved cut quality.
Hypertherm began shipping systems to partners in Asia, Australia and New Zealand, as well as South and Central America, this past October. Global shipments begin on January 17, 2022.
Streamlined Part Separating, Picking and Sorting Minimizes Laser-Cut Part Costs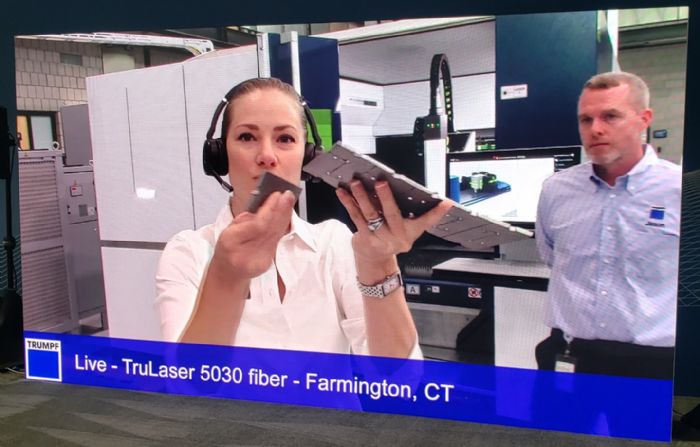 Trumpf displayed what it calls "Smart Solutions"—software and hardware needed to drive the profitability of sheet metal fabricating operations. When it comes to laser cutting, the focus not only is on laser power and cutting speed; we're talking minimizing part costs by paying attention to what happens after the cut.
"Profitability comes when shops optimize how operators spend their time," Trumpf TruLaser product manager Salay Quaranta tells MetalForming, "by using technology that will reduce the time spent removing parts from nests and picking and sorting them, and minimizing the amount of rework needed to clean up cut edges."
Rather than display and demonstrate machines—lasers, press brakes and the like—at its booth, Trumpf displayed technology virtually via live feeds to its locations around the country, including its Connecticut headquarters and its Chicagoland Smart Factory (which, by the way, celebrated its fourth birthday on Sept. 12, just a day before FABTECH's opening day). A Smart Solution focal point: new nano-joint technology that impressively promises to slash the time needed to separate parts from nests by as much as 90 percent, Salay says, compared to more commonly used micro joints.
As described to MetalForming by Brett Thompson, Trumpf laser technologies and sales consulting manager, "the power-control interface to our TruDisk laser, called TruControl, when combined with the closed-loop power-measurement system can ramp laser power very quickly. This allows us to replace micro joints with nano joints, which tab only the bottom edge of the cut rather than the entire thickness.
"These nano joints," Thompson continues, "typically only are about 15 percent of the sheet thickness and around 3 mm long. Compared to through-thickness micro joints, they allow an operator to break parts free from the nest in a fraction of the time."
Thompson also explains that the nano joints result from lightning-fast ramping up and down of laser power, without slowing the laser's cutting speed and without the need to stop the cut and repierce the material.
"A great deal of development work went into developing the power-ramping data tables based on material type and sheet thickness," he says, "providing the optimum combination of strength (to hold the parts int the nest and avoid tip-up) while minimizing the amount of residual material."
A critical contributor to the success of the technology is the use of closed-loop power measurement and control. "We can gauge the power level at the absorber within the laser assembly," Thompson continues, "and feed that data back to the control to ensure that we maintain a consistent power level during cutting, and as we control laser power to create the nano joints."
"In addition to reduced part-separation time, the nano joints," adds Quaranta, "also promise to reduce the time spent finishing part edges—by as much as 80 percent. The technology is available on 5000-series TruLaser machines," she adds, and expects that as more data tables are developed it will become available on other machines as well.
Ram-Height Adjustment for High-Speed Presses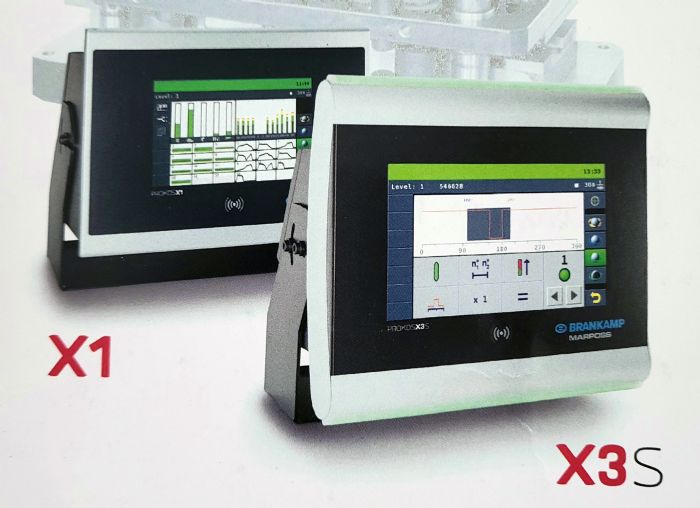 Marposs showcased its Brankamp ram-height-adjustment system for high-speed presses at Bruderer's booth, with Bruderer incorporating the technology on select presses. Adjustment works through sensors mounted in press stop blocks. The sensors provide precise force measurements, which are then recorded and filtered through Brankamp X1 or X3S monitoring systems. Should one or more stop-block forces exceed programmed upper or lower control limits, the system sends a control pulse to the machine controller, which, as the press continues to function, adjusts the ram height. This dynamic correction helps metal stampers avoid excessive or incorrectly adjusted stop-block forces, and results in increased part precision as well as avoidance of part variations, according to Marposs officials, while also providing automatic adaption to temperature influence, material variations and coil changes. The system also enables reduction of inspection efforts and eased setup following tool changes. Another stated benefit: energy savings due to reduction of stop-block forces.
Production Management Software Integrates Planning and Monitoring Of Cutting and Bending Operations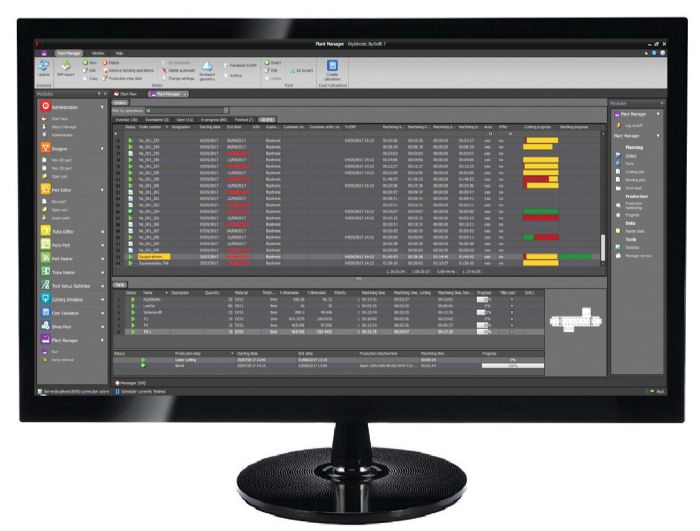 Along with its full slate of laser cutting machines, press brakes and automation equipment for sheet metal fabricators, including a new robotic arc-welding cell, Bystronic emphasized its new Plant Manager ERP software tool for fact-based planning and monitoring of all cutting and bending operations. Each system is subdivided into individual work cycles in the production chain, including one specifically for general planning of cutting and bending processes. Here, Plant Manager automatically assesses and refines the planning process, minimizing the number of individual steps, reducing processing time and related costs, and helping to eliminate error sources. Orders and CAD data are automatically processed independent of any programmer intervention, eliminating the time required for cutting-plan preparation and feedback to the production-planning system. Further, Plant Manager initiates and monitors parts production and provides comprehensive statistical data.
Using the ERP software, all relevant production and machine data become fully transparent, providing managers critical decision-making data including load balancing of their machines, order volume and status, and expected completion and due dates.

12-kW Capability on Flat-Sheet Laser Cutting Machines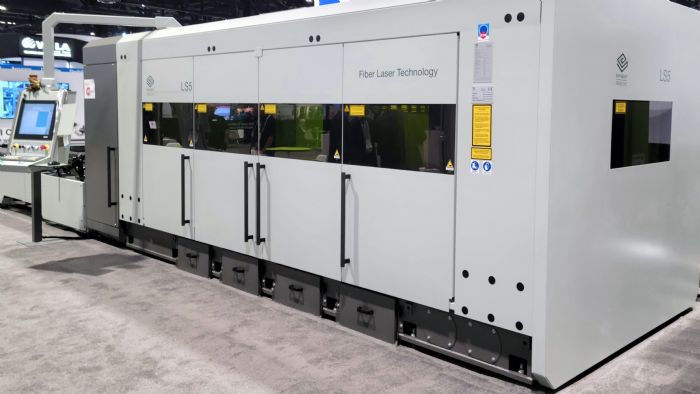 BLM Group USA showcased increased processing power for its LS5 (pictured) and LC5 flat-sheet laser cutting machines with the new option of a 12-kW fiber laser source. The LS5, shown with available automation features, can work in tandem with the company's new ProBend press brakes.
The LS5 and LC5 can cut steel, stainless steel, iron, copper, brass and aluminum sheets in thicknesses from 0.039 to 1.37 in., and users can specify the power level, from 2 to 12 kW, for their needs. The machines feature simultaneous-axis speed to 196 m/min. and swift acceleration paired with rigid mechanical structures.
Available bed sizes include 10 by 5 ft., 13 by 6.5 ft. and 20 by 6.5 ft.—all equipped with dual shelves and automatic loading/unloading and changeover. Depending on floor-space and production-flow requirements, users can choose a longitudinal or transversal configuration.
Ergonomic design enables convenient access to the production area with large front-door openings. And, the operator panel can be swiveled and moved along the front side of the machine for optimal viewing of the cutting process in all conditions.
The LC5 also can accommodate a tube-processing module with the sheet and tube functioning autonomously—just sharing the cutting head.
Water-Cooled Cobot Welding Tool for Heavy-Duty Use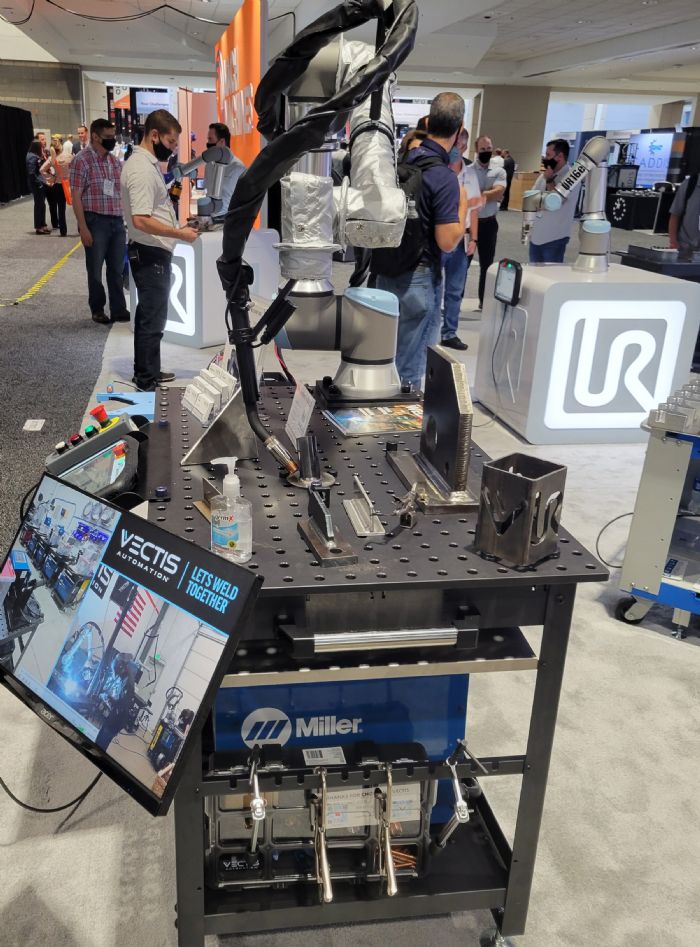 Universal Robots (UR), since debuting at FABTECH in 2017, continues to spread across the exhibition floor, with UR collaborative robots (cobots) on display and performing various functions at 19 different booths, plus UR's own booth. At the UR booth, MetalForming witnessed the latest version of Vectis Automation's Cobot Welding Tool, featuring a UR cobot. Heavy-duty welding tasks now are possible as Vectis Automation becomes the first UR partner in North America to develop a water-cooled cobot-based welding system in a new version of this tool (pictured). The Cobot Welding Tool now comes with the Vectis MultiPass software feature and ArcPilot through-the-arc seam tracking. The setup is compatible with Miller Electric welding equipment and also can be integrated with Lincoln Electric and Fronius equipment.
Vectis Automation also pioneers the use of a UR cobot for hardfacing as shown in its own booth. The company debuted its UR-cobot-powered plasma cutting as well, featuring the Vectis Cobot Cutting Tool and using Hypertherm's PowerMax plasma technology to perform complex cuts on 3D shapes and large structures —an economical alternative to laser tube cutting.
Augmented Reality for the Pressroom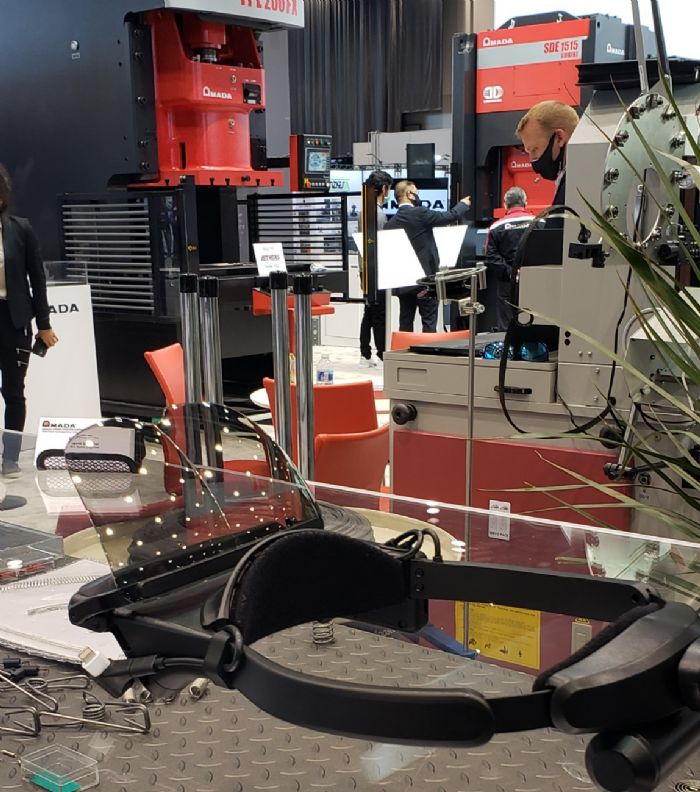 Along with a full suite of press-line equipment, Amada Press System displayed the Mira smartphone-powered, hands-free, augmented-reality headset and software suite, marketing the technology as "closing the gap between Amada Press System and its customers—remotely." It allows metal formers to work remotely and transfer knowledge, via their phone, from Amada's technicians to their front-line workers on the plant floor. Use the technology to transfer press-equipment schematics and blueprints for analysis on a laptop computer.
"Imagine having an expert anywhere in the world where you need them without the restraints and expenditure of travel," says Mira literature. "But beyond the cost savings attributable to reduced travel, there are additional benefits to going digital. For example, a connected workforce is a safer workforce as the data acquired through digital workflows can not only help streamline them but improve safety as well." MF
Industry-Related Terms:
Alloys
,
Bed
,
Bending
,
Brass
,
CAD
,
Center
,
Edge
,
Gauge
,
Grinding
,
Grit
,
Hardware
,
LASER
,
Point
,
Polishing
,
Ram
,
Stainless Steel
,
Stroke
,
Surface
,
Thickness
,
Transfer
View Glossary of Metalforming Terms
See also: Marposs Corp., Hypertherm, Inc., Bruderer Machinery, Inc., AMADA Press System America Inc, Amada North America, Inc
Technologies: Management