New Rapid-Delivery Program for Lifting and Positioning Equipment
August 25, 2019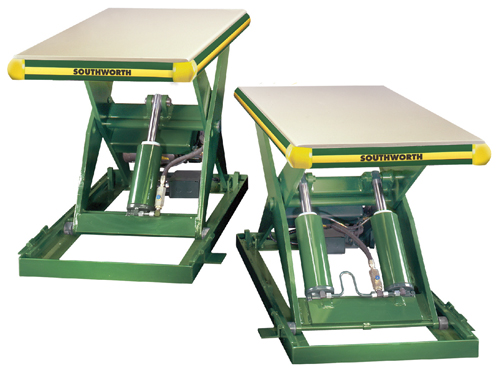 Southworth Products Corp. has unveiled a program to maximize the availability of lift tables and vertical lifting and positioning equipment for rapid delivery. The company's new SwiftLift program places LS-series hydraulic lift tables and other products such as PalletPal pallet positioners and E-Z Reach container tilters into three categories of availability: Stock, Modified and Modified+, with maximum shipping lead times of one, two or three weeks, respectively.
Offerings in the Stock category include more than 65 models of lift tables, level loaders and container tilters for shipment in one week or less. Modified products include all the items in the stock category, plus the ability to modify lift tables to include any platform size to 72 by 96 in. in 1-in. increments, as well as several popular options. Lift configurations in the Modified category number more than 1000 and ship in two weeks or less. Modified+ products include a greater number of available options and offer the opportunity for users to specify light customization of lifts. Modified+ products ship in three weeks or less.

See also: Southworth Products Corp.
Technologies: Pressroom Automation