Destaco Introduces Portfolio of Cobot Tooling Solutions
May 11, 2023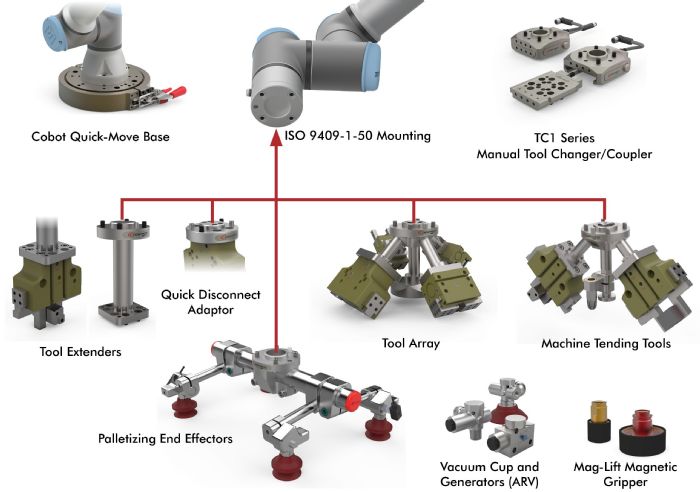 Destaco, Auburn Hills, MI, has developed a group of cobot tooling solutions designed to simplify tool selection and eliminate integration-design work for applications employing small-payload robots or cobots. The variety of tooling solutions covers applications such as gripping, palletizing, machine tending, tool changing, and tool extension, with payload capacity to 10 kg.
Destaco provides the tooling as off-the-shelf kits that feature all of the end-user selected accessories, along with the hardware and tools needed for installation. And the tooling is compatible with cobots that have an ISO 9409-1-50-4-M6 end-of-arm mounting pattern, or it can provide blank robot and tool plates for those who wish to use their own mounting patterns.
Among the tooling offered:
CB-200 Quick-Move Base: Allows the cobot to be moved from one workstation to another without the need to reprogram the robot.

ARV-C Vacuum Gripper: Can pick up and move product via one airline with an auto-release vacuum generator.

MG Magnet Gripper: Available in two sizes, allows the picking of ferrous material or components with one pneumatically actuated airline

MultiMount Tool Array: Mounts up to five different tools to the cobot wrist via various tool-mounting plates and multiple extension lengths.

MultiMount Machine Tending: Can accommodate two grippers or tools for use in workpiece-exchange applications in CNC machining centers.
See also: Destaco
Technologies: Pressroom Automation