Extended-Reach Six-Axis Robot Offers 280-kg Payload
February 23, 2021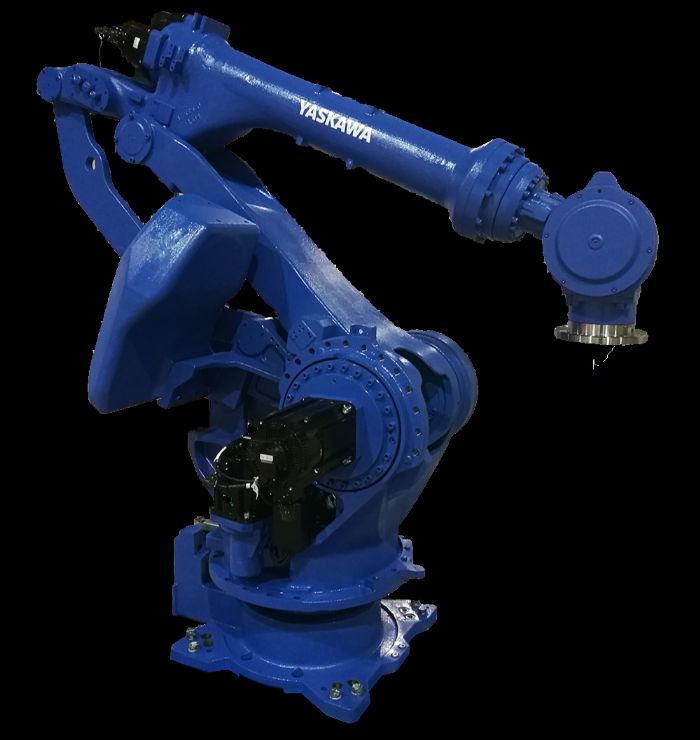 The new Yaskawa extended-reach six-axis GP280L robot, with a 280-kg payload, offers rapid performance for a variety of applications, including handling of heavy components, cutting, machine tending and press tending.
The robot features a 3114-mm horizontal reach, 3552-mm vertical reach and ±0.1-mm repeatability, making it well-suited for jigless applications where the robot positions a part for processing by other robots or two robots handle a single part. High moment-of-inertia ratings enables the simple transfer of heavy payloads, while rapid axis speeds and acceleration capabilities reduce cycle time for increased production output, according to company officials.
The streamlined upper-arm design allows simplified access to parts in tight spots and a wide wrist-motion range eliminates potential interference with fixtures. The robot's reduced interference design allows it to be placed in close proximity to workpieces and other robots in high-density layouts.
For installation, a single cable connects the manipulator to the controller, resulting in simple setup. The GP280L can be floor-mounted and features an IP67-rated wrist and an IP54-rated body standard.
As with all GP-series robots, the GP280L is controlled by the YRC1000 controller, which does not require a transformer for input voltages ranging from 380 V to 480 V AC. Other control features include a compact cabinet (598 by 490 by 427 mm) and a lightweight teach pendant with intuitive programming.
See also: Yaskawa America, Inc.
Technologies: Pressroom Automation