Heavy-Payload, Long-Reach Cobot
June 21, 2022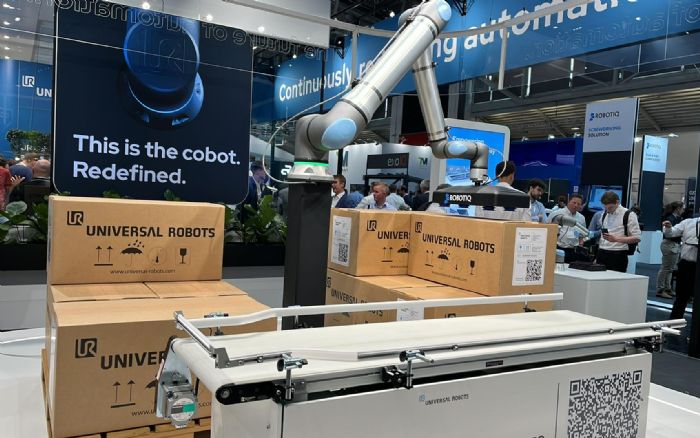 Universal Robots, at the recently held Automatica in Munich, Germany, introduced its UR20 heavy-payload, long-reach collaborative robot (cobot), featuring a 20-kg payload and 1750-mm reach. The product of a complete redesign of previous offerings, according to company officials, the UR20 can work work to the full height of a standard Euro-pallet, while its small footprint allows users to achieve more within their existing production space and boost productivity via quicker cycle times. In addition to palletizing, Universal Robots expects the UR20 to find use in welding, material handling, machine loading and machine tending, and more.
The re-engineered cobot, weighing only 64 kg, features a new joint design—50-percent-less parts—that increases all joint torques by approximately 25 percent and joint speeds by as much as 65 percent. Universal Robots officials anticipate the cobot to provide an overall increase in tool-center-point speed of 100 percent—2 m/sec. vs. 1 m/sec.
"The UR20 is the most innovative cobot we have produced and the latest evolution in 17 years of technical experience in the robotics industry," said Kim Povlsen, Universal Robots president, during an Automatica press conference. "Our expert engineers have completely re-engineered the arm while retaining the same intuitive user interface we have long been celebrated for. The benefits of the UR20 are significant, from faster cycle times and the ability to handle heavier loads, to greater reach with a small footprint. We've also incorporated advanced software enhancements, giving users unprecedented motion-control capabilities."
The UR20 signals the start of a new series of cobots, which will complement the company's e-Series cobots, according to company officials, who expect the UR20 to be available for pre-order in late Q4 2022 and begin shipping, along with accessories, in Q2 2023.
See also: Universal Robots
Technologies: Pressroom Automation