Higher-Payload, High-Speed, Simple-to-Program Cobots Provide Added Reach
August 7, 2023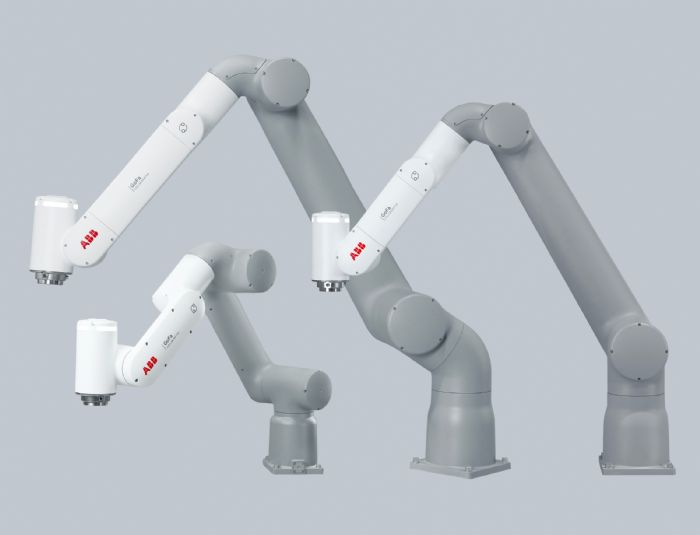 ABB has launched two new variants of its GoFa collaborative robot (cobot): The GoFa 10 and GoFa 12 handle payloads to 10 and 12 kg, respectively, working in close collaboration with employees, addressing skills and labor shortages, and improving safety and productivity. Reportedly offering straightforward programming and rapid integration into production environments, the new variants help lower barriers to entry for first-time users, educators and smaller manufacturing operations.
In addition to their enhanced payloads, the GoFa 10 and GoFa 12 cobots offer tool-center-point speeds to 2 m/sec. with 0.02-mm—a two-fold improvement over comparable solutions, according to company officials. IP67-certified against moisture and dust ingress, they are ideal for demanding applications such as machine tending, welding, parts handling, polishing and assembly. The GoFa 10's 1.62-m reach—long enough to cover U.S. pallets—makes it ideal for palletizing applications.
The GoFa 10 and GoFa 12 cobots reportedly are straightforward to program, deploy and use, with setup eased via lead-through programming and ABB's Wizard programming software, which allow even non-specialists to automate applications quickly by manipulating simple graphical command blocks rather than writing complex programming code.
Pre-installed on the cobots' ABB's FlexPendant robot controller is the ABB SafeMove robot safety-monitoring app, with features such as safe speed limits, standstill monitoring and orientation supervision. These features enable close collaboration between robots and factory workers without requiring protective barriers or fencing.