AutoForm: Raising the Bar in Advanced Stamping-Simulation Software
October 23, 2020
AutoForm was founded in Zurich, Switzerland, in 1995. Since then, the company has grown at a rapid pace. Today, with more than 400 dedicated employees worldwide, AutoForm is recognized as the leading supplier of software solutions for diemaking and sheet metal forming industries. The company has profoundly revolutionized the market with its innovations for rapid and reliable validation of the design, engineering and manufacturing processes.
AutoForm offers many software modules to analyze formability; optimize trimming; develop die processes and design; virtually hem parts to understand the effect of the process on the part assembly; estimate stamping and tool cost; simulate virtual press tryout; and simulate hot forming, tube forming and hydroforming.
In addition, AutoForm raises the bar in advanced stamping-simulation software with AutoForm-Compensator, to virtually compensate dies to reduce costly try-out loops, and with AutoForm-Sigma, to ensure that your dies will produce repeatable parts during production, achieving Cp and Cpk targets despite noise variance in material and lubrication.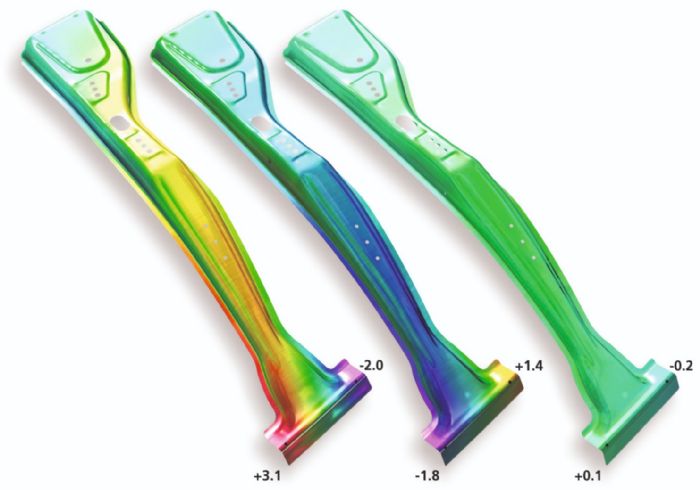 AutoForm-Compensator allows you to automatically modify tooling surfaces based on precise springback calculation or measured springback data. With this software, you easily can define compensation regions, which automatically are adjusted using springback results. The compensated geometry then can be used for rapid and accurate tooling validation. Die faces are compensated in the opposite direction of springback. This software enables you to modify either the entire tooling surface or only selected regions. Because different regions can be defined within the tool, you can systematically control compensation. Once the tooling geometry is compensated, it is automatically used as input for the next simulation. Final part geometry within the required tolerances is achieved with minimum tryout-correction loops.
Above and beyond virtual formability, premier stampers use AutoForm-Sigma to virtually check process capability and robustness (Cp and Cpk). The software gives you deep insight and transparency into the forming process in the early engineering stage. It enables you to identify which design parameters influence part quality and to what extent. It also supports you in determining appropriate correction measures prior to tryout and production. In addition, it identifies the correction measures that have no effect at all and those that offer a real chance of resolving the particular problem at hand. With this information, you easily can identify critical areas in the part, the measures that can be taken to resolve these issues, and the effect these measures will have on other areas. By analyzing process performance and, in particular, process capability, you can validate the stamping process, minimize part rejects and maximize production efficiency prior to tooling. With AutoForm-Sigma, you can achieve your desired quality targets through the most efficient and stable manufacturing process.
Since our foundation, AutoForm has proven to be a reliable, long-term partner for our customers and their sustained success. All of the major automotive OEMs and the majority of their suppliers have selected AutoForm as their software of choice. More than 3500 users at more than 1000 companies in 50 countries around the world trust in AutoForm for their key engineering and manufacturing operations. In our mission to provide state-of-the-art software through continuous investment in research and development, you can be sure that AutoForm will lead the way in advanced technological solutions that give you the competitive advantage.