Software Solves Springback Issues in Prog.-Die Auto-Part Application
June 2, 2021
Richard Tool & Die Corp. New Hudson, MI, supplies blanking, progressive and transfer tooling for the automotive industry. Over the years, services have expanded to include short production runs, die-repair services and reverse-engineering of tooling in need of repair or revisions.
Recently, the company took on a project to design and manufacture progressive dies for automotive center-pillar inner panels, which connect lower frame rails to side roof rails between a vehicle's front and rear doors. Two parts were needed (Fig. 1), one each for a vehicle's right-hand and left-hand sides, stamped from 1.2-mm-thick dual-phase material, a low-carbon-equivalent advanced high-strength steel.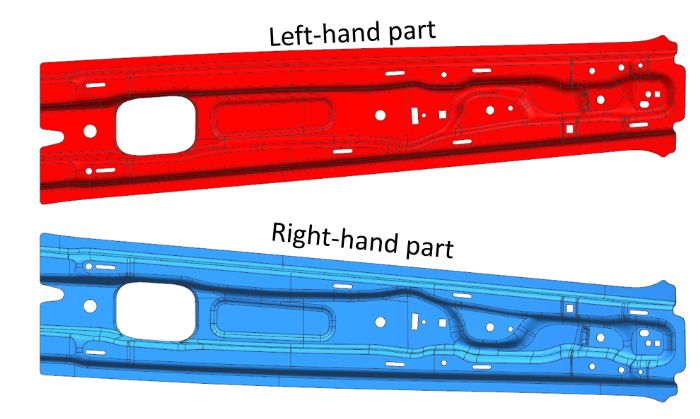 Each part required a die to produce, for the life of the program, at a rate of 40 parts/min. while achieving a part-quality level within the customer-specified overall-shape tolerance of +/- 0.7 mm. Areas mating to other parts required a higher shape tolerance: +/- 0.5 mm. The primary challenge: producing to exacting specifications while dealing with springback concerns, as the material's tensile strength could reach 1100 Mpa.
Using the AutoForm-Compensator software module from AutoForm, the Richard Tool & Die team was able to accurately predict and manufacture the die face required to overcome extreme springback. AutoForm-Compensator allows users to automatically modify tooling surfaces based on precise springback calculations or measured springback data. With this software, users easily can define compensation regions, which are automatically adjusted using springback results, according to AutoForm officials. The compensated geometry then can be used for rapid and accurate tooling validation.