In-Die Welding for Automated Assembly
This in-depth presentation addresses the various methods used for in-die and in-slide welding of hardware to stamped parts. Detailed presentations of various tool designs incorporating in-die welding will be offered.
George Keremedjiev, Tecknow Education Services, Inc.
Extreme Makeover: Press Edition
Increase Press Performance and Profits via Proper Repair, Rebuilding or Upgrading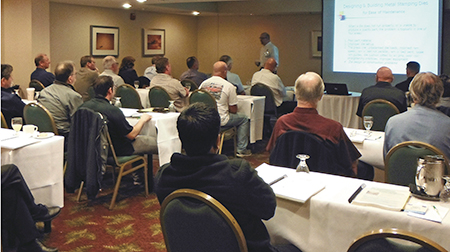 This presentation will discuss all phases of press repair, rebuilding and upgrading, including when to rebuild or not rebuild, choosing the right press candidate, rebuild or buy new or used, understanding the rebuild process and new feature upgrading.
George D. Pirics, Enprotech Industrial Technologies
AS-i-Safe and Profinet
Safety for Press Applications
Providing safe solutions to new automated stamping presses and related equipment provides challenges at many levels. Safety technology involving ASi-Safe and Safety PLCs provide solutions that assist in faster installation times over conventional safety relay integration methods.
Ted Sberna, White Horse Safety
1:30-3:30 p.m.
Tooling for Lightweight Materials: Challenges and Solutions

Replacing Steel Stampings with Aluminum Stampings: Misconceptions, Challenges and Practical Solutions
This presentation will address common misconceptions and challenges regarding aluminum stampings while providing process guidelines and practical stamping solutions. Topics include product design, selection of tool steels and surface coatings and establishing proper punching and cutting clearances.
Peter Ulintz, Anchor Manufacturing Group, Inc.
Using Physical Vapor Deposition (PVD) Coatings to Improve Tool Steel Performance
A coating system that will not alter the core hardness of the tool-steel substrate or result in a dimensional change is critical. Within these constraints, the ideal option is a physical vapor deposition (PVD) coating.
James Kaszynski, Böhler Uddeholm Corp.
Trends in Part Processing
This presentation will review a range of examples of stamped parts from class A and class B automotive parts to deep-drawn and special applications such as fineblanking. The capabilities, advantages and potential future applications of using servo-drive technology as compared to traditional methods will be compared and explained.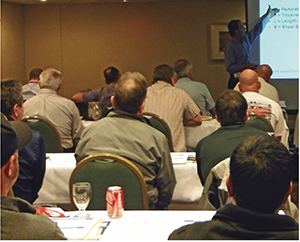 Andreas Kinzyk, Schuler Inc.
Wednesday, November 12
8:00-10:00 a.m.
Die Protection and Sensor Basics
This workshop introduces the basics of in-die sensing for die protection. Starting with an overview of the different types of sensors commonly used for die protection, attendees will learn how to select and properly apply the right sensor for any application. Real- world examples will highlight the advantages and limitations of each sensor type.
Jim Finnerty, Wintriss Controls Group
Introduction to Sheet Metal Formability Analysis, Engineering and Simulation
Topics covered include: strain analysis for prediction of formability, common failure modes of sheetmetal parts, circle-grid and thinning analysis and finite-element analysis of sheetmetal stamping processes. Learn how to read forming-limit diagrams and identify common applications of forming analysis.
Eric F. Kam, AutoForm Engineering GmbH
10:30 a.m.-12:30 p.m.
Advancements and Best Practices for Die Protection and In-Die Sensing
This session will review examples of how press shops have successfully jump-started error-proofing and traceability programs in their facilities. Topics include industrial RFID systems, the growing use of industrial Ethernet technologies and the universal acceptance of IOLink.
Will Healy III and Dave Bird, Balluff Inc.
How Lightweighting Materials and Their Properties Influence Die Design, Press Selection and Maintenance Routines

This presentation examines a number of common materials used for automotive and aerospace light-weighting while providing guidelines for designing dies, selecting pressroom equipment and implementing appropriate die maintenance routines based on specific material properties.
Peter Ulintz, Anchor Manufacturing Group, Inc.
1:30-3:30 p.m.
Monitor and Adjust In-Die Processes
This tutorial describes best practices for die protection and automated in-die part-quality measurements. It will showcase actual tooling examples from the very best practitioners in the field of dies and sensors, including the use of self-adjusting dies that compensate for material changes.
George Keremedjiev, Tecknow Education Services, Inc.
Ed Steineback and Mike Williams, Magna/Cosma International Eagle Bend Manufacturing, Inc.

Automatic In-Die Part Quality Monitoring & Tool Adjustments
Learn the practical methods to select, apply and integrate sensors and control systems. Also covered: how part tracking can verify critical part features, and result in significantly increased machine utilization and more reliable die protection.
James Barrett, Link Systems, Inc.
Springback: Recognizing, Predicting and Responding to Variation in Stamped Sheetmetal Parts
Learn how to correlate mechanical properties such as yield stress and elastic modulus to springback; identify methods to predict and address springback during design and engineering; and define reasonable expectations of springback and stamping-process repeatability.
Eric F. Kam, AutoForm Engineering GmbH
Thursday, November 13
8:00-10:00 a.m.
Advancements in Material Control Using Cushion and Lubricant Technologies
Dynamic Cushion Control for Your Press
Learn how controllable force profile can alleviate the pains of forming high-strength steels. Topics include how to decrease stations using dynamic force; mimic a double-acting press using reverse forming; and how to create a more repeatable process using proper feedback and on-board electronics.
Darrell Quander, Hyson
Increased Productivity Through Chemistry
Topics include best practices for lubricant application, and which parameters to monitor when testing a new lubricant for determining cost effectiveness, quality improvements and process acceptance.
Steve Lowery, Tower Oil & Technology Co.
Creating an Inhouse Metalforming Training Academy
The crisis in finding skilled labor has led some companies establishing internal technology training academies. Mr. Keremedjiev will present a detailed tutorial on this topic, while Mr. Hudson will present a case study of how nth Works established its own skills and youth apprenticeship program.
George Keremedjiev, Tecknow Education Services, Inc.
Thomas Hudson, nth Works
See also: Wintriss Controls Group LLC, HYSON Metal Forming Solutions, Tower Metalworking Fluids, Vibro/Dynamics LLC, Industrious Group Inc.
Technologies: Training