One-Click Cost Calculation for Sheet Metal-Fabricating Processes
August 30, 2023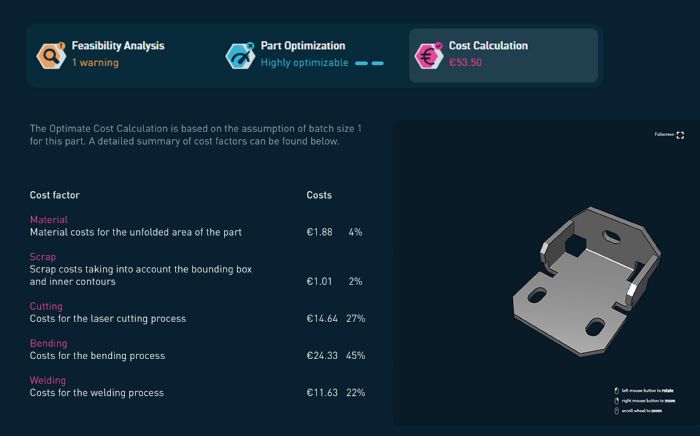 Optimate cloud-based software, as an app or CAD plug-in, now features integrated cost calculation where job shops and OEMs that produce and design sheet metal products need only a single click to calculate the costs of their parts.
The software from Optimate GmbH, a Trumpf spinoff, allows product designers and sheet metal processors to identify defective parts in advance and adjust them if necessary, even before they enter production. In addition to analyzing individual parts, assemblies with as many as 25 individual parts also can be checked for feasibility and optimization potential.
Prior, the software had given a percentage indication of the potential savings of the optimized design compared to the existing variant. This provided a good indicator to determine the changed production costs, and held potential for optimization of the product.
"With the introduction of integrated cost calculation, this now becomes easier and more precise," explains Jonas Steiling, Optimate GmbH CEO. "Our users receive the specific price for their sheet metal parts at the push of a button."