Fixtureworks Adds to Manual-Clamp Lineup
February 28, 2023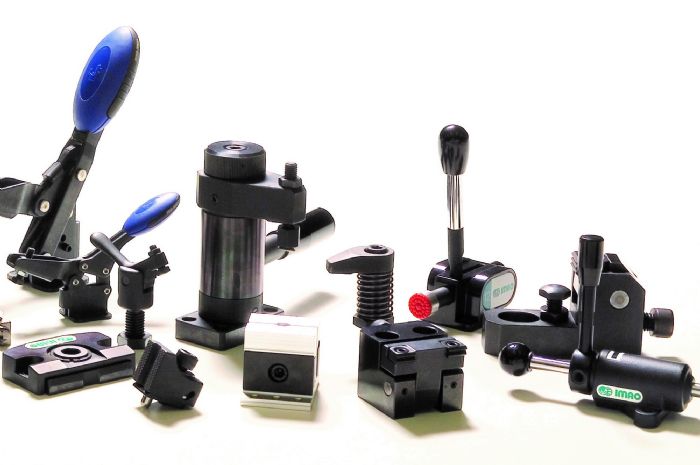 Fixtureworks has added to its array of manual-style fixture clamps, now offering more than 80 varieties of clamps, including, swing, thrust, side-toggle, pneumatic, form-holding, pull and strap. The clamps, adaptable to different industrial applications and systems, reportedly provide rapid, secure, and precise workpiece workholding, with the product mix including clamp accessories such as mounting brackets, adaptors, bars and caps. In both mini and heavy-duty styles, the various clamp configurations provide clamping forces from 2 lb. on a toggle switch to 9000 lb. on a side clamp.
Swing clamps provide an expansive range of arm travel and length of arm options, making these clamps a versatile choice for a variety of clamping, fixturing and workholding applications, and especially useful for highly repetitive clamping jobs. Precision thrust clamps can clamp at the same position by precise projection of clamping bars. The spring-loaded clamp provides constant clamping force. Side clamps utilize smaller clamping space, allowing for greater machine clearance—the mounting screw can be located under the workpiece to minimize clamping space.
Toggle clamps offer a high-quality, durable alternative to other clamps. Nonslip, ergonomic handles allow for simple and comfortable use with smooth edges to prevent snagging. Pneumatic pull clamps provide quick and secure fastening for repetitive operations. The clamp base receives a customized pin based on the thickness of the part to be clamped. When air pressure is applied, the pin is pulled downward and secured into position by a wedge mechanism, which provides a high clamping force.
Form-holding clamps are designed to clamp onto the circumference of oddly shaped workpieces. Pull clamps provide high-accuracy workpiece locating, utilizing precision ground clamping pins used in conjunction with fixture-mounted clamp mechanisms. Versatile strap-clamp assemblies provide high clamping force, and can be used to hold down dies, fixtures and workpieces on a variety of machines.
See also: Fixtureworks
Technologies: Tooling, Welding and Joining