New System Spot Welds Nonferrous and Dissimilar Flat Materials
June 1, 2015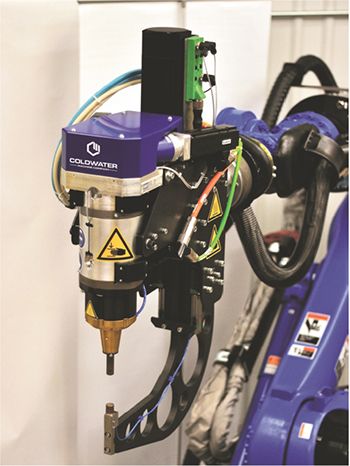 The new SpotMeld system from Coldwater Machine Co, Coldwater, OH, reportedly enables spot welding of 1000- to 7000-series aluminum, magnesium, non-ferrous and dissimilar sheet materials, offering an alternative to single-point joining processes such as resistance spot welding, laser welding and riveting.
SpotMeld, based on refill friction stir spot weld (RFSSW) technology, uses rotational friction to heat the materials along with pressure to forge the parts together using wear-resistant tooling. In practice, heat generates between the tool and material, creating a soft region. Pressure then yields a solid-state joint. In addition to its ability to join dissimilar and lightweight materials, benefits reportedly include high-quality joints with a small heat-affected zone, consistency in weld duplication and faster weld times. The process, note Coldwater officials, also is environmentally cleaner and safer with no filler material, spatter, smoke, radiation or shield gasses.
"With the move toward lightweighting, OEMs are looking for the most effective way to cut weight without sacrificing quality or safety," says Tim McCaughey, Coldwater Machine president. "The existing technologies needed to process these lighter materials typically add weight or cost, result in low weld strength, or have porosity defects. Our friction spot-welding system overcomes these issues and is efficient enough to run in a production environment."
SpotMeld friction-stir spot welders can be configured to application specifics and mounted on any industrial robot, with a variety of weld recipes available on demand via the robot controller.
www.coldwatermachine.com
See also: Lincoln Electric Automation
Technologies: Welding and Joining