New Magazine will Inform and Educate Designers and Engineers on 3D Metal-Printing Technology
October 1, 2015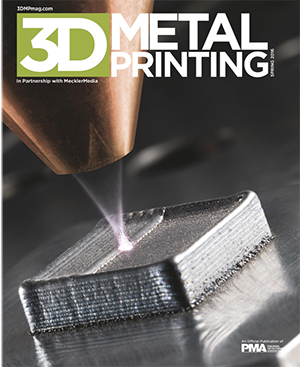 The Precision Metalforming Association (PMA), in partnership with MecklerMedia, New York, NY, proudly announces the launch of 3D Metal Printing magazine. With its first issue slated for spring 2016, 3D Metal Printing will target designers, engineers, executives and others working in the aerospace, automotive, tooling, medical and other industries where applications for metal additive manufacturing (AM) promise to rapidly expand.
"The pace of change in this industry is unbelievably rapid," says Andrew Flando, publisher of 3D Metal Printing and vice president of publishing and expositions at PMA (which also publishes MetalForming and Fabricating Product News). "Manufacturers continue to find ways to use 3D metal printing to create complex parts in a way that increases efficiency and allows them to quickly deliver new products to market."
"The use of AM services grew by 40 percent in 2014," adds Alan Meckler, chairman and CEO of MecklerMedia, quoting recent industry surveys. MecklerMedia produces the Inside 3D Printing tradeshow and conference—the largest professional 3D printing and AM event worldwide.
"We know that the use of 3D metal printing to manufacture end-use parts will increase dramatically during the next three years," continues Meckler. "That's why we're excited to partner with PMA to launch this new publication."
Meckler's point is reinforced by a new market survey released by Stratasys, finding that by 2018 AM of end-use parts is predicted to increase by 38 percent.
"Metals are the fastest-growing segment of 3D printing," adds Flando, "with printer sales growing by 48 percent and material sales growing by 32 percent in 2014. And, the adoption of 3D metal printing is expected to nearly double by 2018.
"This new publication will be a critical resource," continues Flando, "to help designers, engineers and others working in manufacturing stay up to date on the latest 3D metal-printing technology."
For more information, please contact Andrew Flando, aflando@3dmpmag.com; or Brad Kuvin, editor, 3D Metal Printing, bkuvin@3dmpmag.com.
See also: Precision Metalforming Association
Technologies: Additive Manufacturing