Other machine features include through-spindle coolant flow, the use of high-pressure coolant, and a micron scale—"one of the few Okuma machines, we believe, with micron scales in North America," Schenck adds.
The goals when selecting the machine? "Along with speed and accuracy, and quick setups, we wanted a machining center that would fit our biggest die shoe," shares Jeff Umlor, director of business development. "Now we no longer have to disassemble a die, perform the recuts and then reassemble it. We can load a shoe, use the ATLM to measure the tools, perform the necessary re-cut operations, take it out and put it right back into the press.
"This capability already has proven very useful as we've experienced a significant rise in the number of recuts required on tooling designed and built specifically for higher-strength steels," he adds.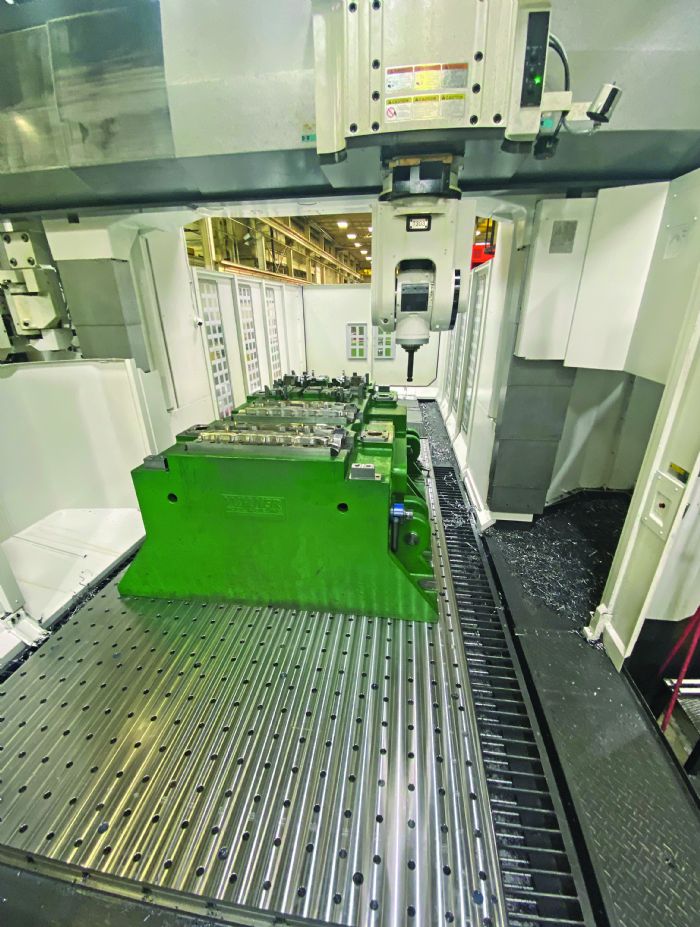 The new machine came on the heels of Walker installing, in 2021, a new Makino F8 machining center, equipped with a Renishaw noncontact ATLM. The firm primarily uses that machine to fabricate Class A draw-die cavities, while also freeing up machining capacity to allow it to take on more contract machining for companies in the Grand Rapids area.
"Customers prefer to near-shore much of their larger work," Umlor says, "and there aren't a lot of these larger machines around. While we also once outsourced some of this larger work—die-set machining for example—these new larger machines allow us to keep that work inhouse."
Tools developed at Walker range in size from tabletop to 320 in. long. When we spoke with the team there, it had some 70 open jobs, ranging from an engineering change to outside simulation-only work to large-die builds.
Automotive comprises the majority of its programs (mostly body-on-white components, but some Class A work too), with appliance a close second. "Appliance is a hot market right now," Umlor shares. "Some tooling for stamping stainless steel, but mostly for cold-rolled draw-quality steel."
Cross-Training—in the Office and on the Floor
About Walker Tool & Die
Walker Tool & Die, Inc., launched in 1959 as Central Tool & Die by Gordon Hendricks, the late father of current company president David Hendricks, engineers, designs, builds and validates metal stamping dies and tooling. It's expanded more than 10 times over the years to now encompass 100,000 sq. ft. under roof and 70 employees. The company performs die simulation and 3D CAD modeling; blue-light scanning (using an Atos machine from GOM Metrology), and reverse engineering via a portable CMM; as well as CNC machining, wire-EDM, software-based inspection services, rapid prototyping and low-volume production stamping.
Eight engineers perform die-design functions at Walker, using Siemens NX, and five others work in forming simulation, using AutoForm to perform virtual die tryout. Many on its design team have shop-floor die-making experience, "not only a huge benefit when it comes to designing tooling," says Schenck, "but it allows us some flexibility to add to the labor force in the shop when needed. And, we've cross-trained some of the designers in our simulation software so that they can float back and forth as needed. We've cross-trained the team on the shop floor, too, to run the various machines."
On the shop floor, Hexagon's WorkNC CAD-CAM software is the driving force, where new software features deliver enhanced surface finishing and collision avoidance, among other benefits. "We've recently brought in several new cutting tools," Schenck says, "and Work NC has allowed us to quickly create new programs for the CNC machines thanks to its advanced tool pathing. Recent software enhancements have reduced calculation time, and also the time spent by designers clicking on surfaces and programming. All of that has provided improved process predictability, and actually has improved our tool life in the machining centers."
"Investing in new technology," adds Finley, "also helps us attract good-quality workers. The best machinists want to work with the best machines and with new software technology, and our investments indicate a commitment to success and longevity. We've also found, since adding our last two or three machines, increased interest in apprenticeships here. We can tell new apprentices that wherever their careers take them moving forward, the experience they gain with these state-of-the-art machines and software will help them, whether they're a programmer, machinist or engineer." MF
Industry-Related Terms:
CAD
,
Center
,
Checks
,
CNC
,
Die
,
Forming
,
Grinding
,
NC
,
Run
,
Stainless Steel
,
Surface
View Glossary of Metalforming Terms
See also: Renishaw Inc., Makino Die/Mold Technologies, Okuma America Corp.
Technologies: CNC Punching