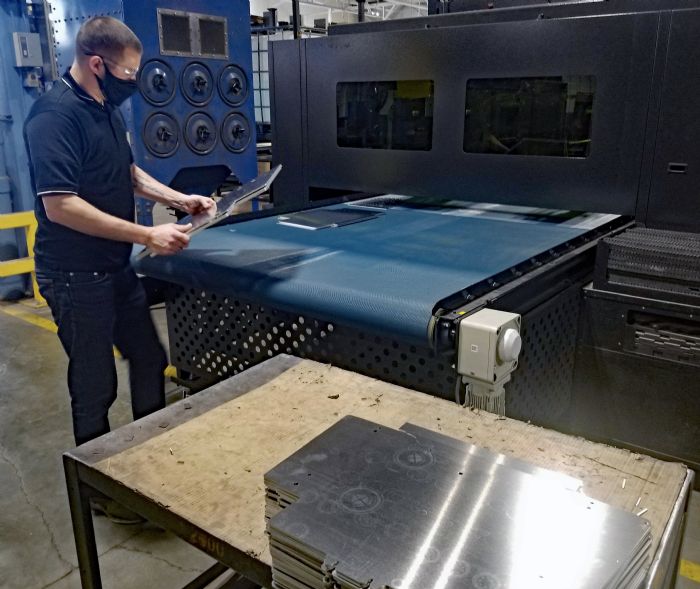 "We designed the punch-laser area of the shop floor to be the constraining work center," shares company vice president of operations Geoff Lefeber, "to help with master scheduling. We schedule the finite capacity of the punch-laser area under the assumption that there's enough downstream capacity in all other work centers. We kit everything together as a project because our bills of materials often are large and complex, with multiple sheet metal parts. We're presenting complete part kits coming from the punch-laser machines to the cells for bending, hardware insertion and welding, and then moving the kits on to assembly and finishing."
Among MPE's 200 employees, 35 work in the metal fabrication area over two weekday shifts as well as a third weekend shift set up to operate the punch-laser machines. "Just as we've revamped our shop floor from batch-and-queue to cellular manufacturing, we've also invested to revamp our workforce—in the shop and the office,"shares Lefeber. "We value-stream-mapped the office and moved away from departmental silos, streamlining the workflow so we can deliver information to the shop floor more quickly. That was step one. We then worked to develop more of a team-oriented culture and cross-trained our associates so that we can flex resources to improve response time, increase throughput and reduce lead times."
Accentuating its Prototype Capabilities
In the shop, the cutting-area lineup features the Acies AJ; a 2002-vintage Apelio with 3-kW CO2 laser and 33 tons of punching capacity; and two EMLK 3610 machines—one added in 2013, the other in 2018 and both equipped with 33-ton CNC punching capacity and 3-kW CO2 lasers.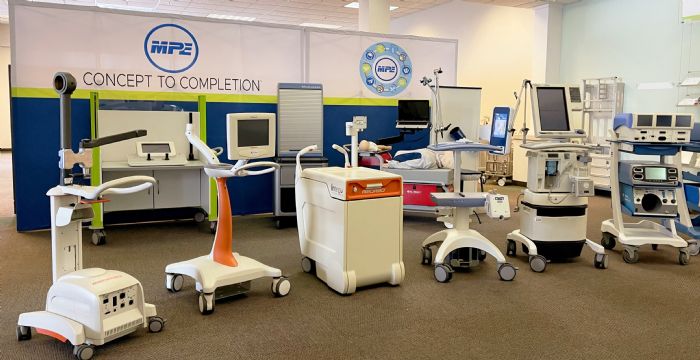 Parts coming off of the machine quartet feed the three fabrication cells, including the quick-turn prototyping center, "which adds significant value for our customers," explains Rick Zanardo, vice president of business development. "We're producing quick-turn prototypes on production-intent equipment under the same roof as our mainstream production lines. That results in a lower total cost of ownership by streamlining product development and qualification efforts, benefits we can pass along to our customers."
Included in the prototype cell is a new Amada 100-ton HG100 ATC (automatic tool changer) press brake, along with three older press brakes; Haeger hardware-insertion equipment; and a Miller Electric arc-welding setup. "With the ongoing growth in the volume of projects we're processing through our main production stream," Zanardo adds, "and with more customers asking us to develop prototypes, we set up the cell so that it would be less disruptive to our mainstream manufacturing flow."
Fiber Laser Replaces Three Aging Machines
"The Acies is the star, for sure," says Lefeber, adding to Zanardo's comments. "The cutting speed of the fiber laser allowed us to replace three aging, stand-alone CO2 laser-cutting machines and not miss a beat. The automation featured on the Acies—including sheet loading and unloading, parts separation, automatic punch-tool changing and shimming, and automated lens cleaning—contribute to near-zero setup time and optimum productivity. When you're a high-mix low- to medium-volume shop, setup-time reduction is a critical success factor."
Sheet material for the Acies automatically feeds from a six-shelf storage rack (three shelves for raw material and three for cut nests), which MPE stocks with material each evening to enable 6 hr. of lights-out cutting. A seventh shelf in the rack holds sheet skeletons after parts have been separated.
The sweet spot for the 3-kW fiber laser, says Lefeber: 14- to 18-gauge mild steel, which comprises about 75 percent of the workload. "We can cut that material four to five times faster than we used to using the older CO2 lasers," he adds.
Of particular benefit, Lefeber says, is the optional rear conveyor on the Acies, which can direct parts directly from the punch-laser to the prototype cell. "The automation can pick parts as needed from the nest," he explains, "and place them on the conveyor to send them on their way to the cell."
A Bevy of Features to "Skill-Down" the Machine's Operation
To streamline assembly, MPE relies on its cutting machines to perform a great deal of in-process tapping, and the Acies' multipurpose turret delivers. It features four tapping stations, and provides automated hit counts to signal the need to replace a worn tap with a spare. The machine controller also can detect broken taps and immediately stop the machine.
On the punching front, while the Acies' fiber-laser source enables cutting of most holes and other cutouts, in addition to part peripheries, MPE's punch-tooling library gets the call for forming 3D features in parts—bridges, lances, extrusions and the like. MPE has some 100 punch tools in its library, including several recently added duplicates of its biggest runners. The storage rack automatically transfers tools to a buffer turret while the machine runs, queuing tools for the next job on the schedule. It also holds as many as seven tapping tools that can be rotated into the four tapping stations in the main turret.
"We also appreciate the machine controller's ability to store the height of each punch and die after they've been ground," says Lefeber, noting that it has serialized all of its punch tools for tracking purposes. "Using a QR code on each tool and an RFID scanner, the machine auto-shims the tooling, which can be a painstaking manual process requiring a great deal of operator skill. In addition, the machine will kick out tools when they've reached their programmed number of hits."
Kitting Drives Lead-Time Reduction
"All told," Lefeber continues, "creating a central cutting/punching area to feed our three fabrication cells helped facilitate the transition to a kitted fabrication process and efficiently feed our assembly lines. We estimate that the punch-laser combination machines contribute at least 25 percent to our ability to reduce manufacturing lead times on our most popular medical carts from 3.5 weeks down to just 1.5 weeks.
"Also contributing to reduced leadtime, he adds, "is changing from a backward scheduling system to forward, and building dozens of static nests so that we're sure to present the right mix of parts needed for each kitted production order. Efficient scheduling is critical to ensuring the assembly department has the parts it needs, when it needs them to minimize lead time to our customers."
Lefeber calculates a 24-month payback period for the new Acies punch-laser combination machine, based largely on the contribution from all of the automation that came with it. "We're able to get the same amount of work done with a 75-percent reduction in manual labor," he says.
Welcome Industry 4.0
Moving forward, the MPE production department has been charged with implementing Amada's Influent Internet of Things software, installed at the end of 2020. It will use the software to help move from an earned-hours approach to gauging efficiency to an overall equipment efficiency (OEE) metric. All of the laser-punch combination machines, as well as its ATC press brakes, are equipped to automatically log machine stops and assign alarm codes.
"We'll focus efforts through 2021 to collecting machine OEE data and to using the data to continuously improve our uptime, of our key pieces of fabricating equipment, and our part quality," Lefeber says. "We've already noticed a few patterns in our downtime alarms that have given our service team useful insight into what's happening out there."
Also planned for 2021: two continuous-improvement projects specifically targeted at improving productivity and quality in the laser-punch area. "One is a setup-time reduction event planned for our oldest punch-laser machine," says Lefeber, "and the other event will attack deburring of cut parts, looking for process improvements to eliminate this time-consuming secondary operation." MF
Industry-Related Terms:
Bending
,
Center
,
CNC
,
Die
,
Forming
,
Hardware
,
LASER
,
Lead Time
,
Lines
,
Powder Coating
,
Prototype
,
Tapping
,
Turret
View Glossary of Metalforming Terms
See also: Amada North America, Inc
Technologies: CNC Punching, Cutting