After understanding the options, the accompanying table (New Equipment Vs. Upgrades) offers basic guidelines that can help with final decision making.
As mentioned above, replacing the entire blanking or CTL line may not always be an either/or situation. Individual components of the line—leveler, feeder, uncoiler, shear, stacker, etc.—can be evaluated using the same parameters as listed in the table. Here, some machines may require replacement while others can undergo integration of new and used equipment to improve productivity.
Big Savings via Controls Upgrades
A controls upgrade for coil-processing lines can provide significant return on investment. With many lines in the field pushing past 30 yr. of service, most could benefit from new control systems. Electronics and controls advancements over the past couple of decades can improve the productivity and profitability of just about any coil-processing line.
A controls upgrade can significantly reduce energy consumption. For example, when evaluating and comparing the energy consumption of DC versus AC drives, DC drives consistently use power inefficiently in press-feed lines even during periods of nonproduction. Upgrading a line to AC drives provides the potential for energy savings for feed-line users.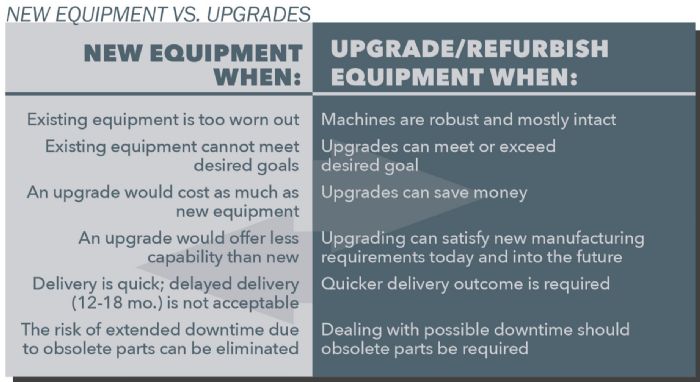 Along with direct cost savings from reduced power consumption of upgraded equipment, feed-line users also gain power efficiencies and lower demand for total incoming power. This newly available power capacity enables metal formers to increase production without investing in additional equipment to generate higher levels of incoming power. In some instances, switching from DC to AC drives on press-feeding and -stacking equipment has achieved energy savings surpassing 70 percent due to significant reductions in power consumption.
Real-World ROI Cases
The following examples show what can be done to enhance existing equipment performance.
Automotive-OEM blanking line. In 2021, Automatic Feed Company (AFCO) evaluated a line that it originally installed in 1981. The equipment, though sturdy and robust, needed a productivity boost. Evaluation resulted in the following upgrades: new PLC, drives and controls, and electrical hardware and software for the coil line and stacker—all required due to obsolete controls and limited availability of spare parts.
Equipment modifications included new wireway and cabling, fabricated components, subassemblies, and new bracketing/ mounting plates—required to accommodate the new drives, controls and hardware. Modifications to the pinch-roll crop shear on the blanking line included a new gearbox and backup-roll assembly for the upper pinch roll. AFCO also supplied several automation features to the coil line, including automatic coil load, automatic centering and automatic coil thread-up, to help speed the coil-load process.
The upgrade also included removal of old, obsolete controls and spare parts to eliminate the possibility of unexpected control breakdown and excessive line downtime due to lack of component availability.
The total cost of these changes represented only about 10 percent of the required cost to replace the original equipment, yet has ensured that going forward the line reliably will meet or exceed production goals and requirements. Upgrades to current components also provide readily available preventive maintenance and services to keep the line running and on track to meet production goals.
Multiple upgrades on an automotive-OEM progressive-die coil-feed line. Well-engineered and -built equipment can provide decades of operational success and be improved upon as production demands change and new technological developments enter the market. In one example, AFCO provided multiple improvements to a progressive-die coil-feed line, originally installed in 1998.
A 2012 line upgrade included a new cassette leveler to accommodate newer types of steel and aluminum, narrower coils, and a laser-weld coil kit. Then in 2019, an end-of-line straight-out conveyor was added to the line, as well as new drives, PLC, end-of-line scales, human-machine interface (HMI) and motors, front-of-line camera system, and updated electrical hardware and software. The project also brought safety upgrades.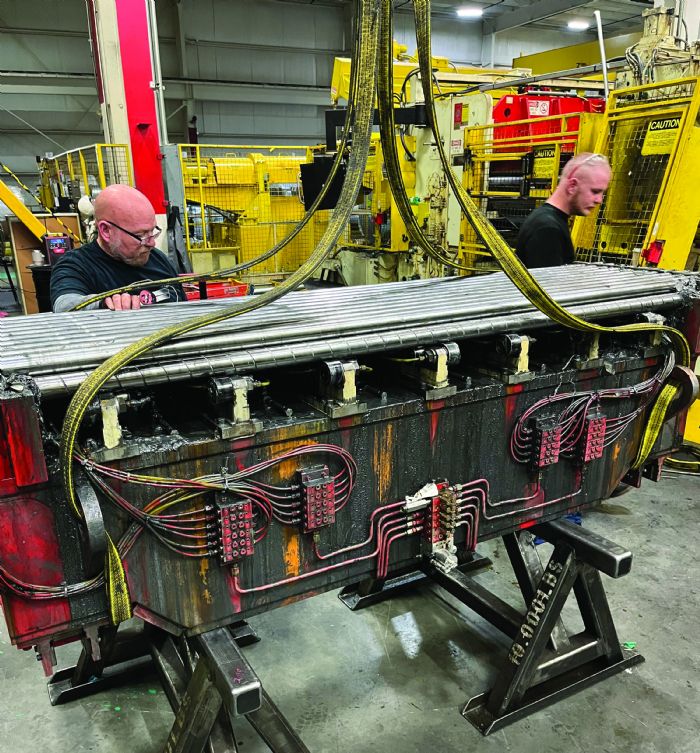 New drive controls provided updated technology for the uncoiler (including tension control), leveler (including loop control) and feeder (including profile feed), exit feed, and scrap chopper. This offered additional line functionality, including coil mapping, fine leveler adjustment, tail-out mode, automatic coil threading, batch part run, microfeeder-sequence mode, sequenced exit-feed scrap-chopper mode and exit-feed shear-speed mode. In addition to updated functionality, the change to AC servo drives provided significant energy savings.
Another benefit of these changes: improved operator safety as the feeder-drive upgrade included a safe-off solution to integrate with a new jog-feed pendant. Plus, features provided with the PLC logic conversion helped reduce setup and changeover time by providing automatic coil load, threading and tail-out mode, as well as upgraded microfeeder functionality, batch mode and automated machine-function setups. Additionally, the change to a user-friendly HMI, AFCO's Line Supervisor-AIM, helped automate line setup.
Both of the upgrade projects only amounted to about 40 percent of the cost of a new line investment. Amortized over 24 yr., the total annual capital expenditure would be minimal.
Upgrade: Save on Steel Prices, Mitigate Lead-Time Issues
Given the current economic environment, including fluctuating steel costs and ongoing supply-chain issues, the case for upgrades versus buying new becomes even more powerful. Used or previously built equipment is not subject to high steel costs or inflation-hitting purchased components as with building all-new equipment. Additionally, existing equipment is less affected by lead-time issues.
Keep in mind that upgrading a line may take several months, so the decision to remanufacture existing press equipment should be made only when the expected workload and part volume justifies the cost to rebuild. MF
Article provided by Automatic Feed Co., Napoleon, OH; 419/592-0050.
See also: Automatic Feed Company
Technologies: Coil and Sheet Handling