Robot Hired to Move Heavy, Large Blanks and Parts
Noting that the 440-ton press gives the firm "room to grow into larger parts," Cisneros says it also gives the firm added flexibility to handle current work and to take on new work. "And, our customers have been very happy to send us larger jobs once they've learned we had this added capacity."
However, with orders for larger and heavier parts come labor challenges.
"When we began using that press, we found that we needed two operators on the front of the press and two more on the back to handle large-part loading and unloading," Cisneros says, "because the parts are relatively heavy. So, I challenged the team to add automation so that we can load and unload from the same side. We have achieved that."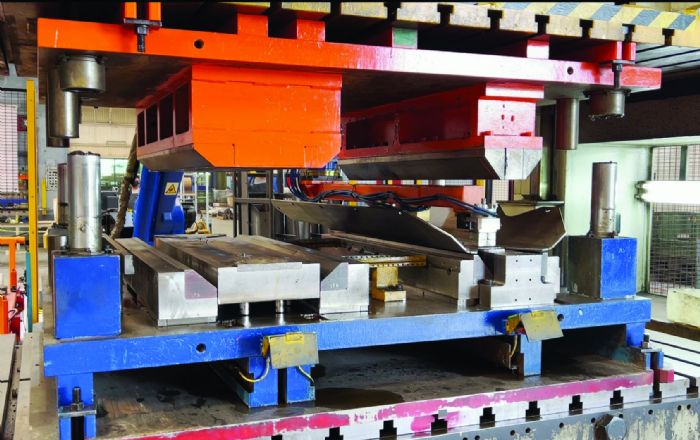 The automation solution, installed at the Stamtec press early in 2022: a Yaskawa robot arm mounted on a track. The robot destacks blanks and moves them into the press, and also unloads stamped parts from the press and places them onto a material-handling cart.
"We've gone from four operators on that press down to one," Cisneros says. "With the robot, we're handling blanks from 36 to 60 in. long and as thick as 3/16 in. Parts can weigh as much as 30 kg—that's quite a job for manual labor to take on. Overall, the productivity from that press has increased by 25 percent or more with the robot. And, even though labor cost in Mexico remains competitive compared to other markets, we still find the need to automate wherever we can."
To be sure, EZI Metales is not new to robotics. As it has managed to grow considerably year over year and expects to continue a rapid pace of growth through 2025 and beyond, it has added robots to its welding department in a big way.
EZI Metales' 440-Ton Workhorse Mechanical Press

The robot-tended 440-ton Stamtec mechanical press features a fabricated steel frame of a heavy, box-type construction, fully thermal-stress-relieved before machining to ensure uniform accuracy. Stamtec rates the press bed to perform at no more than 0.0015 in. of deflection/ft. of bed length left to right and front to back. And, it notes that with the full-capacity load symmetrically distributed over two-thirds of the bed area, the press provides superior compressive strength, deflection, torsion and vibration resistance to help produce precision stampings with minimum die wear.
The press's dual-valve automatic hydraulic overload-protection system protects each side of the press individually from overloads, relieving the pressure of a tonnage overload in milliseconds and quickly stopping slide movement.
Press control comes via a Link Systems OmniLink 5100-APC unit, with 10.4-in. touchscreen, eight inputs for die protection/process monitoring and eight programable limit switches to sequence and time automation with the press. Also available: four nine-digit counters for stroke, parts, batch and quality.
"The welding department often runs two shifts/day," Cisneros says, "with some 70 manual welding booths and 20 welding robots. In fact, we expect that our continued growth pattern will require us to add a second shift to our stamping department."
When to Convert a Fab Job to Stamping
When it comes time to decide between fabrication and stamping a particular part, based on part volumes as well as on the projected service life of a particular part, annual part runs of 12,000 seems to be the tipping point, Cisneros says.
"At this level we typically can justify the cost of tooling for the press," he shares. "We have some parts—for the food and medical industries, for example—that run at volumes of 100,000/yr. or more and which run most cost effectively in the presses. However, we also have to consider the overall projected life of parts when deciding to tool up for stamping. For example, we have some parts for the construction industry that might only run at an annual volume of 8000 to 10,000, but might be in use for several years, which can justify investing in a stamping die."
Cisneros clearly sees stamping continuing to grow for the firm, as a way to keep current customers but also to attract new ones. While EZI Metales now operates some 18 laser cutting machines, six CNC punching machines and more than 30 press brakes (to 320-ton capacity), "we see stamping as becoming more and more important over time," he says, "and without it as a core competency we probably would have lost some $3 to 4 million in annual sales over the last few years." MF
Industry-Related Terms:
Bed
,
Case
,
CNC
,
Core
,
Die
,
Form
,
Forming
,
LASER
,
Model
,
Point
,
Run
,
Stroke
View Glossary of Metalforming Terms
See also: Link Systems, Stamtec, Inc., Yaskawa America, Inc.
Technologies: Pressroom Automation, Stamping Presses