Non-Woven Abrasive Discs for Variety of Finishing Applications
December 27, 2019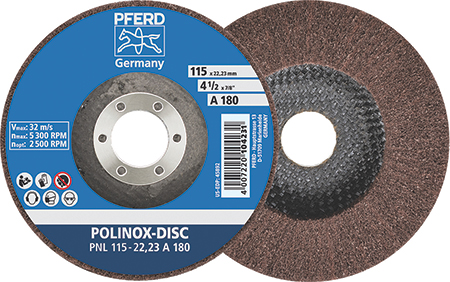 Pferd has introduced the Polinox fiber-backing disc, designed for long service life while working on large surfaces with variable-speed angle grinders. Non-woven abrasive flaps with fiberglass backing enable face-down finishing work. Using aluminum-oxide A abrasive, the disc is well-suited for manufacturing via a range of products, such as hand pads, drums, discs, belts, mounted points and grinding wheels. Its abrasive properties are tailored to a variety of metal machining and grinding applications.

Polinox discs feature the same construction as Pferd's PNZ and PNL flap wheels and finishing drums. Interleaved discs (PNZ type) come in two different grits while radial discs (PNL type) come in three different grit sizes. The PNZ type will create a coarser surface finish and remove more material than the PNL type. Both discs are available in two arbor diameters: 41⁄2 and 57⁄8 in.
See also: Pferd Inc.
Technologies: Finishing