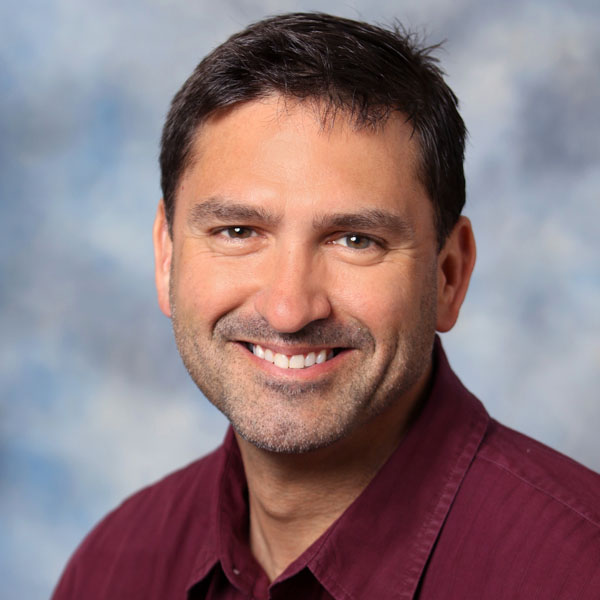 Lou Kren
Press Controls—What's Next?
March 1, 2019
As stamping presses continue evolving, so, too, do systems charged with controlling them. From major drive controls to products easing operator tasks, we present an overview of what's out there. This article supplies links to recent MetalForming articles describing other introductions, including the SmartPac Pro press automation controller from Wintriss Controls, the DSF-series servo press control from Aida America, and the RMC75E two-axis controller from Delta Computer Systems.
Configurable Controls for Press-Line Applications
HelmPak press controls from Helm Instrument Co. can be configured for applications ranging from simple clutch/brake control to transfer line control. Given the open architecture of a PLC system, the company's engineers can design and build controls requiring less operator involvement and enabling an array of automatic setup procedures while providing feedback information for production analysis and reporting, according to company officials. System capabilities include redundant clutch/brake control as well as main-motor, lubrication and transfer control. In addition, the HelmPak provides tonnage monitoring, brake and die monitoring, signature analysis, and shut-height and counterbalance control. Other features: servo-feed interface, Ethernet connectivity, and expandable I/O configurations for integrating auxiliary machine control. System configuration begins with standard Allen-Bradley processors and I/O modules for basic functionality, with automation added via Helm specialty I/O modules for various platforms. Interactive touchscreens enable simplified setup and operation.
Drive and Control Technology, Plus Line Integration for Servomechanical Presses
Nidec Minster's FX2-series servo-driven mechanical presses incorporate advanced drive and control technology, including a large intuitive operator interface incorporating the press-builder's Production Management Control (PMC) programming, and complete integration with coil-line components.
In addition to liquid-cooled drives and unique energy-management systems, Siemens also provides the FX2s with technology that helps power Nidec Minster's control. As a result, the series features user-friendly programmable motion profiles for manufacturing flexibility as well as a multitude of profile shapes. All motion profiles afford users full torque and energy at lower speeds.
Control technology takes into account press parameters, forming processes and drive-train information, and optimizes values to provide traversing profiles with smooth, flowing transitions. This protects tools and prevents excessive power or torque peaks.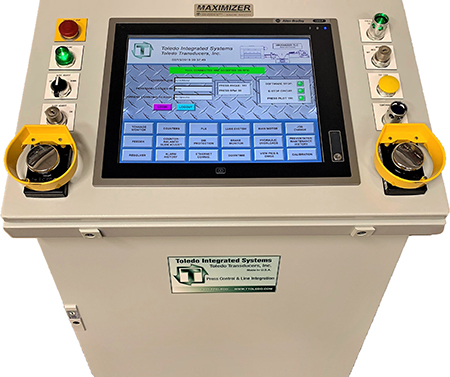 Control Press and Entire Feed Line
Toledo Integrated Systems, having increased the capabilities of its Maximizer product line for the past two decades, now offers the Maximizer TLC (Total Line Control) with controls not only for the press but also for the entire feed line. Instead of interlocking two separate pieces of equipment together, the TLC uses a single control for the entire press line, easing line operation and troubleshooting. With this setup, note company officials, users only have one set of electrical drawings, one control processor and one operator screen, from a single provider.
Using standard off-the-shelf PLC hardware, the Maximizer TLC can incorporate Ethernet, RFID, employee-card readers and other technologies. Typical TLC features include press control, die protection, tonnage monitoring, PLS, job recipes, and shut-height and counterbalance control as well as enhanced line diagnostics. As a whole-line control, it also provides servo-feed, loop, straightener, uncoiler and coil-car control.
Custom Mechanical-Press Controls
Link Systems provides a host of control options for various press types. The custom-engineered OmniLink System 5100-MPC controls mechanical-press motors, clutch/brake systems, auxiliary equipment, automation sequences and interfaces, and also provides die protection. The integrated control employs the OmniLink 805 operator terminal, System 5100 card rack, 5000 resolver/ encoder, and optional System 5100 components with disconnects, transformers, motor controls and pneumatic components. Features include 100-job storage, four standard counters, multiple stroking modes, intelligent diagnostics and automatic top-stop compensation. Options include PLS, tonnage monitoring, feed communication and analog speed control.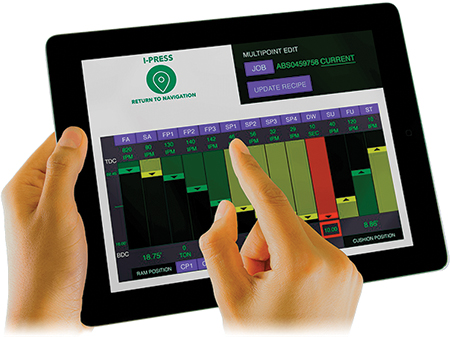 Control Optimizes Performance of Servo-Driven Hydraulic Presses
Having fully integrated servo drives into its press offerings, Sutherland Presses also has addressed servo-press control via I-Press software-based controls and touchscreen displays. Its I-Press Hydro for servo-driven hydraulic presses features a 10-in. HD color touchscreen, real-time status readouts, 200-plus-job memory and 16 die monitors as well as 130 separate function monitors.
With the I-Press AB Hydro control, and starting and ending at top-dead center (TDC), the servo drive allows for as many as three rapid and four slow pressing speeds, a capability that increases the efficiency of complex forming operations and reduces secondary operations. Unlike servo-driven mechanical presses, according to company officials, a servohydraulic press with I-Press can deliver as much as 100 percent of press tonnage at any point in the stroke, with users given the ability to program dwell time at the bottom of the stroke prior to decompression and upstroke return to TDC.
The I-Press multipoint job-setup screen features a slider-bar function—users can drag it to a setpoint, or tap to enter numeric values for all approach, dwell and return motions. With the I-Press AB Hydro control, along with servo-driven pumps and the multipoint edit screen, users can optimize motion, pressure and position curves to optimize part output and die life. Remotely monitor and troubleshoot by connecting the control to mobile devices.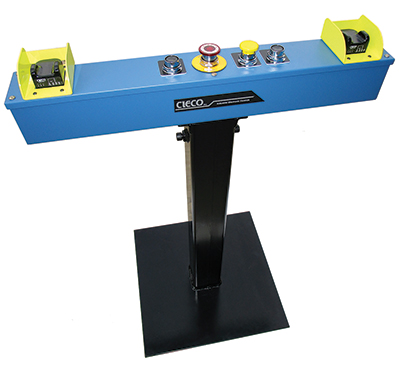 Easily Installed Ergonomic Touch Buttons
For use wherever ergonomic touch buttons would be deployed, or to replace mechanical buttons, Cieco offers its Saf-T-Touch ergonomic safety touch buttons. The buttons, operational with gloved hands, reduce the chances of carpel tunnel syndrome and fatigue in repetitive operations via ergonomic no-force actuation. Diverse dual-sensing technology prevents inadvertent actuation from false triggering sources, and redundant processors with dual monitored outputs provide control-reliable operation. For trouble-free performance, the buttons feature electromagnetic compatibility, meaning superior noise immunity from external radiated and conducted noise, according to company officials.
Installation is simple, with industry-standard 30.5-mm-hole mounting and pluggable terminals to simplify wiring. Indicators provide for simple troubleshooting and output status, and solid-state terminals eliminate the need to replace buttons due to worn relays.