Advanced High-Strength Steels—New Types on the Block
February 1, 2008
Some 40 years ago, the steel industry embarked on intensive research and development that produced a controlled rolling process that, combined with micro-alloying, resulted in major breakthroughs in steel properties. Steels with small amounts of aluminum, niobium, vanadium or titanium rolled at 880 C rather than the conventional 1050 C resulted in high-strength low-alloy (HSLA) steels with tensile strengths in the 350- to 650-MPa range, combined with good toughness. Next came development of a process called CalSil treatment, by which the addition of silicon and calcium to steels reduced sulphur content, bringing improved formability both along and across the direction of rolling.
The next major breakthrough in steelmaking came in the mid-'90s when steel suppliers further refined thermalmechanical processing, built new equipment such as continuous-annealing lines, and began producing today's advanced high-strength steels (AHSS), with tensile strengths in the range of 440 to 980, with some steels now offering 1400-MPa tensile strength. Within the next few years, industry analysts predict that as much as half of the steels in automobiles will be AHSS.
As AHSS products have begun to make a strong presence in the market, the amount of information on them—their characteristics and properties, and tips for forming and fabricating them—also has increased. For example, the International Iron and Steel Institute now offers a publication titled Advanced High Strength Steel Application Guidelines, available on its website, http://www.worldautosteel.org/. The publication, updated in September 2006, is a must reference for any company working with AHSS. It describes the different types of AHSS—dual-phase (DP), transformation-induced plasticity (TRIP), complex-phase (CP), martensitic (MS), ferrite-bainitic (FB), twinning-induced plasticity (TWIP), hot formed (HF) and post-formed heattreatable (PFHT).
Also a must for your library is the new Surface Vehicle Recommended Practice SAE J2745 document (see the sidebar to this article, page 32) issued in July 2007 that categorizes and provides the properties of AHSS automotive sheet steels. The recommended practice covers 13 cold-rolled AHSS types (six DP alloys, three TRIP steels and four MS steels) and seven more hot-rolled sheet steels.
We contacted several of the world's steelmakers (in cooperation with the International Iron and Steel Institute, www.worldautosteel.org) to find out what AHSS steels they have recently developed and made available to the market. What follows are brief descriptions; additional information can be found on each company's website.
New Swedish Steels Include Rollforming Alloys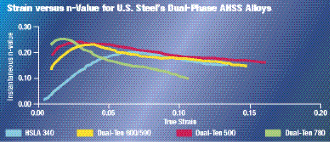 Dual-phase steels such as the Dual-Ten family from U.S. Steel, illustrated here, exhibit superior initial strain-hardening behavior when compared to high-strength low-alloy (HSLA) steels.
Swedish steelmaker SSAB offers a full lineup of dual-phase AHSS types under its Docol brand name. Its six Docol DP steels available for the U.S. market have minimum tensile strength to 145 ksi (1000 MPa). These cold-rolled dual-phase steels find global automotive applications in door beams, bumper reinforcements and seat tracks. SSAB offers the steels in sheet thicknesses of 0.5 to 2.0 mm in widths from 800 to 1500 mm, depending on steel grade and thickness.
As with other DP steels, Docol DP types offer good formability, and at more extreme levels of forming SSAB recommends forming in the direction transverse to the rolling direction rather than in the longitudinal direction. Also, when shearing or punching Docol DP, cutting clearance is of primary concern, says SSAB. It recommends a cutting clearance of 10 to 12 percent of sheet thickness for Docol DP steels.