"Teaching and Preaching" Out on the Shop Floor
…builds the enthusiasm that drives the ongoing practices we're teaching our supervisors and production workers," says Eric Toriumi, director of sales and marketing at Diemasters. The training Toriumi refers to has been memorialized in a nearly 200-page TDPS Training Manual & Handbook, written and produced inhouse by DeLay, director of learning Arden Baranowski, and others. In the handbook's introductory remarks, DeLay writes: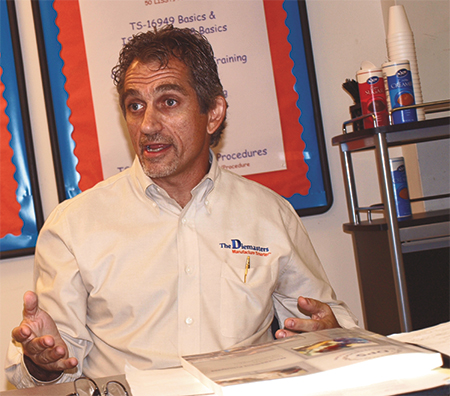 Diemasters president Virgil DeLay lays out his management principles that have resulted in notable improvements in several key measurables, including a 30-percent reduction in direct labor as a percentage of sales:
"Lean is our culture; theory of constraints is our infrastructure; safety first is what we promise our employees every day; Six Sigma is our problem solving tool; and TS is not only a quality system—it's how we ensure customer satisfaction."

"It is The Diemasters Productivity System's commitment to knowledge and training, including our core competencies, that makes The Diemasters difference…fully realized when each employee works in concert knowing how they contribute to our overall success."

"The training system is what has allowed us to move forward and progress into value-added assembly and automated assembly," adds Toriumi.

In its 20 chapters, the book introduces the Theory of Constraints; covers lean manufacturing (with information on safety, 5S, total productive maintenance, etc.), material-requirements planning, Six Sigma, time management, throughput accounting and other management principles.

Comprising the centerpiece of the productivity system is the company's five-section employee-training series, dubbed the LISSTs Training Series. Its components: lean manufacturing, inherent simplicity and the Theory of Constraints, safety first, Six Sigma and TS 16969.

"Each section comprises several components, including classroom lectures and learning, books and web-based learning, and case studies and exams," notes Baranowski. "Employees earn points based on the number of classes completed, and earn uniquely colored badges reflecting their level of training achievement."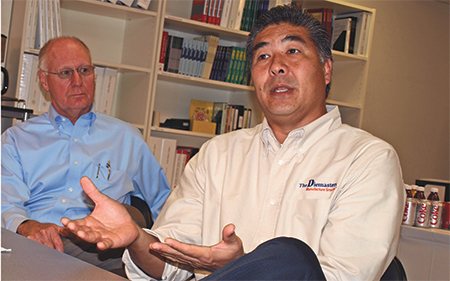 "Teaching and preaching out on the shop floor builds the enthusiasm that drives the ongoing practices we're teaching our supervisors and production workers," says director of sales and marketing Eric Toriumi, shown here (right) with Paul Rimington, DeLay's partner.

Baranowski explains further that the company has assigned five levels of TDPS education, based on the number of courses completed. And it also has specific goals for the number of employees it would like to attain those education levels. The company employs 90 people, some 60 percent of which are skilled labor.

"We feel that all workers need to strive toward growing their skill set and knowledge base," says Baranowski. "This is a holistic view that is driven by TDPS."

After completing basic orientation training, new employees are designated as TDPS trainees. Next comes TDPS practitioner, "and we expect 35 percent of our employees to reach that level," Baranowski says. "Another 20 percent will proceed to become TDPS Green Belts and another 10 percent to reach TDPS Black Belt status. At the very top of the pyramid is TDPS Bottleneck Blaster, and we expect six percent of our employees will progress that far."

Meet Octavio Villegas, Material Handler


One of the newest employees at Diemasters, material-handler Octavio Villegas, also happens to be one that president Virgil DeLay presents as a "poster child for the type of employee we look for, to fit into our culture based on learning and continuous education. Villegas may not have known what 'lean' was when we interviewed him (in early 2011), but he showed us a willingness to learn and a hunger for information. That's exactly what we're looking for—open-minded and curious employees committed to self-improvement."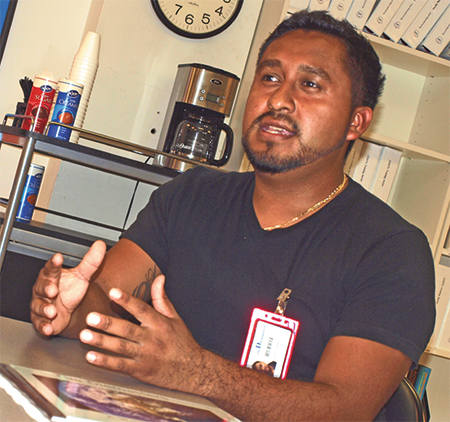 Villegas joined Diemasters as a temporary worker working in the assembly and stamping departments. He worked with such dedication and enthusiasm, says DeLay, that the firm offered him a full-time position, in March 2012, as a material handler/fork-truck driver. Since then he's completed numerous Diemasters LISSTs courses, including those on safety first, product flow and 5S. In less than one year, his hourly pay rate grew by 19 percent.
Asked about Villegas' performance and continuous improvement, manufacturing manager Bill Curtis says:
"He exemplifies the idea that training works best when employees seek it, rather than management pushing training down on people. He has the spark, we just add the fuel, and because of that, he's destined for bigger things here."
Asked how he's contributed to the overall well-being of the company since feeding his hunger for information, Villegas describes an idea he recently brought forth to improve productivity.
"This is a big plant, and driving the fork truck back and forth from material storage to the production areas can take and waste a lot of time. I thought that it would be a good idea to install a small tablet computer in the fork truck to give me access to production schedules and job status, so I could more efficiently plan my routes through the plant. I learned through the LISSTs training to have an open mind and to als look for s to work smarter, and recognizing the opportunity to install a computer in the fork truck is a direct result of that type of thinking. And as with all improvement initiatives, a new safety-first procedure was created.
"I want to attend more LISSTs classes here," continues Villegas, "to continue to improve and elevate my status. I like the challenge of learning new things, and appreciate that Diemasters gives me the opportunity to move forward, and not work at the same job day after day."
Bottleneck Blasters, according to the TDPS workbook, have the ability to identify and exploit a constraint, and the authorization to subordinate all decisions necessary in order to elevate the constraint.
As noted in the workbook as a fundamental of The Diemasters Productivity System bottleneck management:
"The long-term strategic application of The Diemasters Productivity System does not call for the continuous removal of the constraint; rather, the idea is to choose where the constraint should be in order to best exploit business opportunities, and then keep the constraint stationary."
Adds DeLay:
"As the system strives for increased knowledge and skill levels, our LISSTs training puts many of our employees in a position that deserves advancement and promotion. So far, some eight to 10 employees have enjoyed these specific benefits, but many others who either started the program a little later or who have been hired more recently also are on track to achieve these benefits soon. Though we do not have a formal pay-for-training system, LISSTs training and TDPS are woven into employee's annual goals, and as they achieve their goals they can be rewarded with a raise, bonus or promotion."
Making the Right Decisions, for the Right Reasons
Manufacturing manager Bill Curtis (also the company's facilities manager) explains how TDPS and LISSTs training enable managers to not just make change for change sake, but to make the changes that matter most to achieving the company's overall strategic goals.
"For me and our staff of production schedulers and supervisors, the training has definitely changed the we think and operate on the shop floor," Curtis says. "First and foremost, we're making decisions on the floor based on key measures within our Balanced Scorecard, and on what we recognize as specific customer needs."
Curtis joined Diemasters in 2007 "on the bench, as a toolmaker," he says. "Now, having made the move into management, I sit on the steering committee alongside Virgil and others. I wouldn't be there if I hadn't sunk my teeth into the training system. It's a college education in basic manufacturing."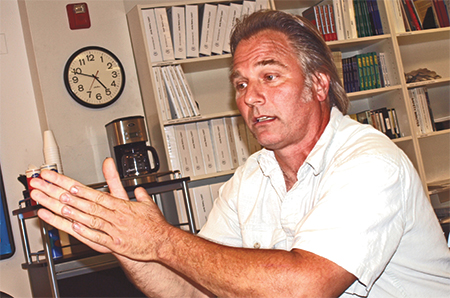 "We're broadening the development and talent of our workers," says manufacturing manager Bill Curtis. "Many hands make the work light, so we're developing our people to handle more things, so our scheduler can have more flexibility and can spread the work down through a more developed workforce. This type of training is not available off the shelf. Developing a curriculum inhouse, customized for our needs so we own it and can use it at will, is critical. It's how we've made education our company culture."

Highlights of Curtis' education include lean-manufacturing classes at McHenry College in Crystal Lake, IL, and inhouse classes at Diemasters in safety first and Six Sigma. He's now a TDPS Green Belt, and on his to becoming the firm's second Bottleneck Blaster, joining DeLay. And, since starting with the company full time in 2007 working in the toolroom, Curtis has enjoyed a 25 percent uptick in pay.

Says DeLay:

"Following Curtis' lean/ six-sigma training, and gaining a thorough understanding of the Theory of Constraints, he was able to detect a considerable amount of waste and numerous bottlenecks in our toolroom. He applied what he learned, and championed a complete renovation of our toolroom flow and infrastructure that led to a significant increase in productivity and capacity, and a reduction in piece-part variation."

As for how the company's training programs have enriched the workforce for whom he is responsible, Curtis says:

Meet Randy Alderson, Shipping/Receiving Lead

A critical success factor at Diemasters that contributes to minimizing direct labor content as a percentage of sales is optimizing product flow. "We look at five critical areas where we want to drive product velocity," says DeLay. "These are work-in-process lanes, outside processing lanes, incoming lanes, packaging lanes and work that's outside at a processor. As long as product moves through those lanes within a 72-hr. window, we're good."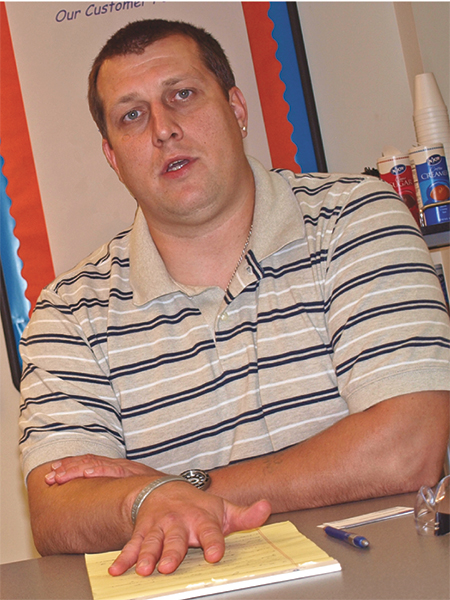 Keeping product moving efficiently has been a focus of shipping/receiving lead person Randy Alderson, hired in March 2010 as a shipping clerk and promoted within 6 months to department lead. Alderson participated in lean and TS training right off the bat, but credits 5S training as the difference-maker.

"5S changed our whole department," says Alderson. "A place for everything and everything in its place. When I took over the department, I immediately sought to improve flow of incoming materials and products into production. We don't want incoming materials to sit in receiving; we want to get it in and move it out, either to internal departments or out to the customer. So we developed a system of queue times and deadlines for our department that has resulted in a 30- to 40-percent reduction in wait times for our internal customers."

Asked what motivates him, and other Diemasters employees, to strive to continue to learn and improve, and drive innovation at the company, Alderson says this:

"We're all seeking a better work environment, easier and more enjoyable days at work, rather than headaches. We all want to work smarter, not just harder."

"We're broadening the development and talent of our workers. Many hands make the work light, so we're developing our people to handle more things, so our scheduler can have more flexibility and can spread the work down through a more developed workforce.

"This type of training is not available off the shelf," Curtis continues. "Developing a curriculum inhouse, customized for our needs so we own it and can use it at will, is critical. It's how we've made education our company culture."

Time Management and the "List of Six"

Another tool and die maker who has risen through the ranks at Diemasters is Scott Kauth, hired as a stamping supervisor in December 2003 and promoted in 2011 to quality-assurance manager. Kauth readily admits his move to a management role at Diemasters didn't come easily, and so in 2005 he enrolled in Harper College in Palatine, IL, where he earned (sponsored by Diemasters) an Associate's Degree in Science Management. He since has completed LISSTs training at Diemasters in six sigma (he's a green belt), safety first and quality. And he's taught the LSSTs courses in advanced lean principles and TS 16949. The payoff for Kauth has been a 30 percent increase in pay.

"If the LISSTs training was in place a few years ago," Kauth shares, "I might not have had to go back to school," noting, as does Curtis, that the TDPS and LISSTs curriculum serve as a "college education in many areas of manufacturing."

Describing the management skills he's picked up over the years, Kauth stresses time management as a key enabler to being able to get more done in a given day.

"We practice the 'list of six' here," says Kauth. "We ask everyone to focus each day on six tasks they need to accomplish. And included with each manager's list of six is asking employees about their list of six. We've found this to be a very effective time-management tool, to help keep everyone focused on what's important and avoiding distractions."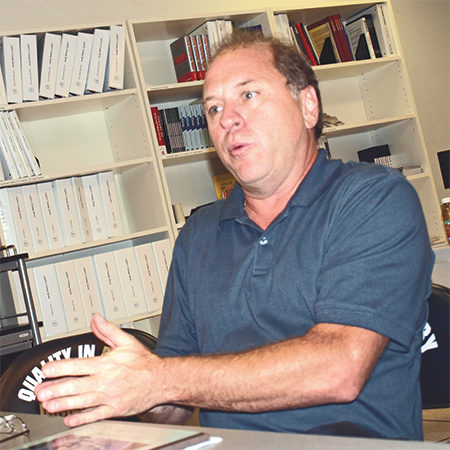 "If the LISSTs training was in place a few years ago," says quality assurance manager Scott Kauth, "I might not have had to go back to school," noting that the LISSTs cirriculum serves as a "college education in basic manufacturing."
DeLay quickly points to benefits realized by the company thanks to Kauth's enhanced skill base. "As he continues to apply the lessons learned in LISSTs training, he's become adept at applying the lessons learned to everyday practices," DeLay says. "His attention and proactive approach to potential issues with our key customers has led to a 23-percent improvement in our supplier scorecard with our biggest customer, and an invitation from another top-five customer to be part of its Top 10 Supplier Group."
Asked to describe how a recent project out on the floor helped improve customer satisfaction, Kauth immediately recalls a relatively high-PPM stamping program that the toolroom resolved by adding a double-blank sensor to the die. Rather than being content to solve that one program's quality issues, the toolroom logged the problem/solution into a "lessons-learned" book so that it could be applied to similar programs in the future.
"We took one customer's problem, fixed it and then applied what we learned to other prospective jobs and customers," says Kauth. "That's a perfect example of applying the principles taught in the LISSTs courses."
MF
Technologies: Pressroom Automation, Stamping Presses, Tooling