FABTECH—Conference Sessions Prepare Metal Formers
October 1, 2019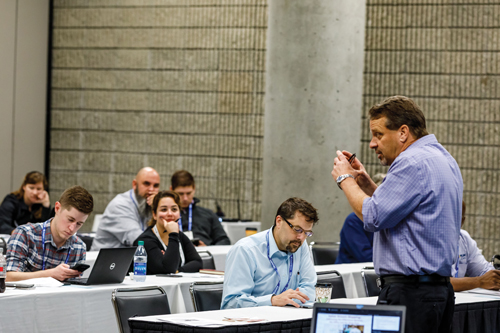 FABTECH 2019 attendees have myriad opportunities to learn what they need to know for helping their companies meet the manufacturing challenges of today, while preparing for the future. Twenty-two metal forming presentations address the following: connectivity, joining, lubricants, materials, monitoring safety, sensing solutions, tooling, transfer stamping, troubleshooting/maintenance of servo presses, and more. In addition, three signature events begin each of the three days and feature a retired NFL player and Air Force pilot, a cybersecurity expert and bestselling author and former TV host and animatronics expert. (See page 36.)
FABTECH, sponsored by the Precision Metalforming Association, Fabricators & Manufacturers Association, Society of Manufacturing Engineers and Chemical Coaters International, offers the following metal forming sessions:
Monday, November 11
10–11:30 a.m.
Understanding Servo Metal Stamping Presses—Proper Use, Troubleshooting and Maintenance
This course offers an overview of the proper operational procedures for servo-driven metal stamping presses. Attendees will discover proper maintenance and troubleshooting procedures, and come to a full understanding of inspections for servo presses. The presentation also will cover the different operational modes for the presses and how and why they are used.
Jeff Fredline, Meco Corp.
Lubricants 1—Lubri-Nomics: The Science of Lubricants and Economics in Metal Stamping
Lubri-Nomics: How to make die-lubricant selection a cost-efficient part of your manufacturing process. Learn the effective proven method for reducing missteps in lubricant choice and application, as well as methods to provide a positive impact on downstream operations, lowering your real cost of manufacturing.
Bob Anderson, Tower Metalworking Fluids