Automated Press Line Supports Kanban Stamping
November 1, 2007
Like many stampers running lean operations, Luitink Manufacturing Co., Menomonee Falls, WI, recently went looking for flexible equipment that could handle changing part quantities and volumes. "We also needed to support a large package of automotive components that dictated the need for an 800-ton transfer press," recalls Glen Luther, Luitink's general manager. "We found a production solution that not only met our automotive-parts requirement but that allowed us to expand our capacity by taking on less-traditional work."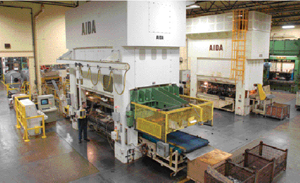 Luitink's 800-ton progressive-die straightside press, automated for transfer and feed-line capabilities, provides a flexible production system able to handle changing part quantities and volumes.


The press installed at the firm, a PMX 800-ton progressive-die straightside press from Aida, Dayton, OH, was automated for transfer and feed-line capabilities. The automation setup allows the firm to stamp parts on a kanban system targeting one- and two-week intervals.

"The ability to effectively marry the press with the right transfer mechanism and feed line in the time frame we required was an advantage," says Luther. "In addition, Aida designed the line so that our operators can run the press and ancillary equipment through its Access 2000 control, eliminating the need for multiple controls from different suppliers."

Once jobs are stored in the Access 2000 control, parameters can be easily recalled and sent to the transfer and feed-line equipment. In addition to maintaining a high level of communication between the press and its components, the control handles other critical functions including die protection, part and, part-out sensing and operation of end effectors. The control helps to reduce overall part-to-part change-over time by controlling all aspects of the production operation.

Link motion and wide-spaced connections on the press
allow Luitink to achieve close tolerances required
for components such as this automotive part.