These inline and near-line vision systems prove remarkably hardy and able to handle most temperature environments encountered on the stamping-shop floor. Further easing shop-floor incorporation, these systems often contain their own light sources, matched in color and intensity, and positioned to most effectively capture and render part and feature images.
The systems carry their own lighting due to the need for pixel clarity.
Considering Precise Measurement for Your Production Line?
Is inline or near-line inspection ideal for your small, precision parts? Jonathan O'Hare, global program manager of CT systems at Hexagon Manufacturing Intelligence, suggests asking the following questions when exploring the measurement/inspection path for determining the level of needed capability:
What are the control requirements for manufacturing the parts? If a stamper must maintain very tight tolerances, and has difficulty controlling those tolerances with the various production equipment, then a measuring system can help with production machinery and tool setups. And, should production machinery or tooling require frequent adjustments, a measuring system helps.

What outgoing inspection requirements are required by the part customer(s)? Part customers may be pushing quality requirements back to the stamper. This requires rigorous inspection and quality control to avoid rejected parts and scrap.

What are the scrap rates? This goes back to the control question. For a stamper making the same types of parts all day long with very little scrap, the cost of a measuring/inspection solution may not make sense.

The general bottom-line question to ask: How much does the ability to precisely control a process and its output save a stamper overall? A stamper should determine if a measuring solution enables greater productivity. Does the ability for a customer to guarantee the quality of its products constitute a selling point for the stamper, justifying the cost of such systems and their implementation?
"The image area is lit from different directions, and then a series of LEDs around the camera lens enables users to provide light in various orientations," O'Hare explains, citing typical flexible setups. "The system is calibrated for a particular type of lighting, a particular type of camera and other factors. No need for users to set up unique shop-floor lighting."
Setups Tailored to Feature Measurement Needs
Applications of this technology abound for precision metal formers, as vision systems find use in batch and continuous forming and assembly operations for electronic consumer goods and medical devices, among others. Electronics for mobile phones offer a typical example.
"Mobile phones feature small switches and similar parts as well as supports and framing to house the various components in an assembly," says O'Hare. "The hole locations in these small stamped parts, for example, must be precise to ensure proper assembly, and vision systems can measure for the needed tolerances within the process."
Some specialized systems for inline image processing place cameras at multiple angles, taking quick images of parts coming through on a conveyor. In some cases, cameras capture images with the parts in motion—no need to stop the line for each image.
"Taking images from different angles via multiple cameras allow capture of edges and other features not normally visible when capturing with a straight-on camera setup," O'Hare says. "In a matter of seconds, data are collected and analyzed. An electronics part such as a completely flat backplate can be measured with a single, straight-on camera. But multi-camera and multi-sensor systems can be used for more-complex stamped parts with features on more than one side. These systems will measure everything in a single setup, and typically are found in medical-device components that require exceptionally high quality control."
Such applications might employ multiple measurement methods, according to O'Hare, including a CCD camera to measure straight ahead—say, to confirm hole locations on one part face—and other methods for more challenging side features such as the depth of a groove.
"Here, a focal white-light sensor may be employed," he says. "Though more expensive, this sensor is highly accurate, providing precise depth measurement." Such multi-sensor capabilities, notes O'Hare, are found in the Optiv Performance CMMs offered by Hexagon Manufacturing Intelligence.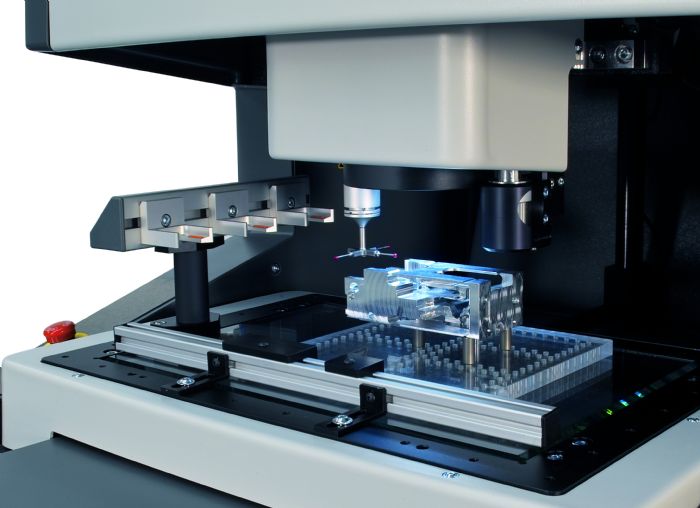 Incorporation of various measurement methods point to the complementary nature of inspection technology and its availability to metal formers, enabling use in all manner of applications. Optical systems may employ the aforementioned touch probes in near-line inspection to measure deep features, a task impossible with optical measurement alone, and/or employing the white-light sensors for tinier depth features.
What's clear is this: If a metal former requires feature measurement, inline and near-line systems possess the range and capability to get it done. MF
See also: Hexagon Manufacturing Intelligence
Technologies: Quality Control