New Forming Software Offers Automatic Springback Compensation
July 1, 2016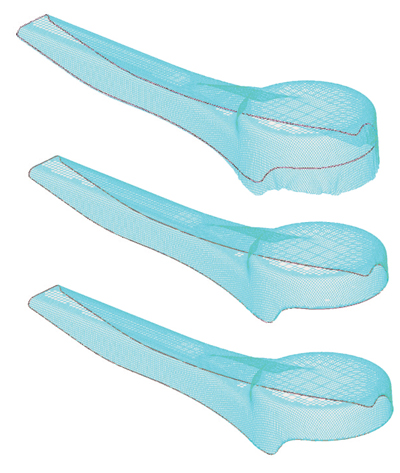 Engineering Technology Associates (ETA), Inc., Troy, MI, announced the release of Dynaform Version 5.9.3, simulation software developed to simulate the sheet-forming process and analyze the entire die system. This new edition promises an even more streamlined and robust experience, say ETA officials, with major improvements in blank/trimline development (depicted in the accompanying photo), the addition of automatic springback compensation and process templates, and a new license control.
Improvements to blank/trimline development include combining the interface for blank development and trimline development. Users now can develop the blank outline and trimline simultaneously, develop partial blank outlines and trimlines, and develop a blank outline with a cut pattern.
When running the springback function in Dynaform, the user first defines the stamping stages, and then defines the tool to be compensated, compensation zone, compensation method, scale factor and iterations for a customized and accurate result. The job is submitted and, when completed, the program automatically checks the springback amount and calls the solver to make a compensation adjustment for the tooling mesh. The compensated tool then replaces the original tool and multistage jobs are rerun until arriving at the ideal solution.
Another new feature: process templates that allow the user to define forming processes for typical cases. This streamlines the user experience by automatically creating the stages within the template for analysis.
Lastly, the new license control with license roaming allows the user to temporarily borrow a license from the server to use the software outside of the network. The control also supports a redundant license server within the network, minimizing license server downtime.
ETA: www.eta.com
See also: ETA (Engineering Technology Associates, Inc.)
Technologies: Software