Beckwood to Manufacture Sheet Stretch Forming Machine for Aerospace Supplier H&R Parts Company
April 9, 2020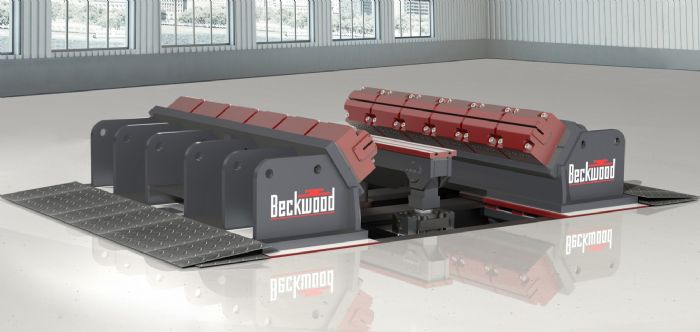 Beckwood Press Co., St. Louis, MO, a manufacturer of custom hydraulic and servo-electric presses, automation systems, and precision aerospace-forming equipment, has been awarded a contract by H&R Parts Company, Wichita, KS, to manufacture a 200-ton Triform sheet stretch forming machine. H&R Parts supplies sheet metal components and assemblies to the aerospace and defense industry. Its 34,000-sq.-ft. manufacturing facility--ISO9001:2015 and AS9100D certified--boasts an 89-percent on-time delivery rate.
The new stretch forming machine, capable of forming aluminum sheets to 3/16 in. thick and 114 in. wide, will feature 40 in. of stroke with a 12 by 100-in. mounting table that includes plus or minus 15 deg. of tilt. The jaws will travel horizontally to allow for a maximum distance of 72 in. and a minimum distance of 18 in. between them. The segmented jaws provide 6000 lb./in., and will allow for clamping of a wide range of sheet sizes.
The machine joins a Beckwood Triform model 24-5 fluid-cell sheet hydroforming machine installed at H&R Parts in 2018, which has a 24-in.-dia. forming area and 5000 PSI of pressure.
"Due to a fire in January of 2019, our skin stretch press was destroyed," says Lon Legleiter, president of H&R Parts. "Our previous experience with the Triform fluid-cell press led us to contact Beckwood to replace the skin stretch press. They were able to design a press that would fit our existing pit with very little changes."
See also: Beckwood Press Company
Technologies: Stamping Presses