Custom Stamping and Assembly
March 1, 2008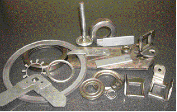 Art Technologies, Inc., Hamilton, OH, is a custom stamping and assembly company, operating multiple presses in various tonnages to handle stamping and coining projects. The company can design and build progressive and compound dies, and offers constant in-process inspection to ensure quality product. It employs state-of-the-art production technology to manufacture difficult and custom stampings, bearings and assemblies.
www.art-technologies.com/
See also: ART Metals Group, Inc.
Technologies: Stamping Presses, Welding and Joining