In-Die Tapping Units and Tap-Lube System
March 1, 2008
Automated Tapping Systems, Inc., Brick, NJ, will exhibit its complete line of in-die tapping units including servo-driven, mechanical and strip-following single- and multi-spindle units. Also on display, a working servo-driven, multi-spindle and strip-following tapping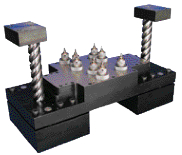 unit as well as a new adjustable tap-lubrication system. This 120-deg. adjustable lubrication system, which is completely self-contained within the unit, works equally as well in flood or misting applications. The company also will display its new compact tap sensor for single- and multi-spindle applications.
All tapping units include the company's twist-lock leadscrew assembly that allows taps to be changed in the press in less than 1 min. Tapping range is from a 2-56 to 1¼-12 or metric equivalent. The company's tapping units have been tested at speeds in excess of 250 strokes/min. and exhibit long life.
www.automatedtappingsystems.com
See also: Automated Tapping Systems, Inc.
Technologies: Tooling