Arc Welding Cobots
March 31, 2020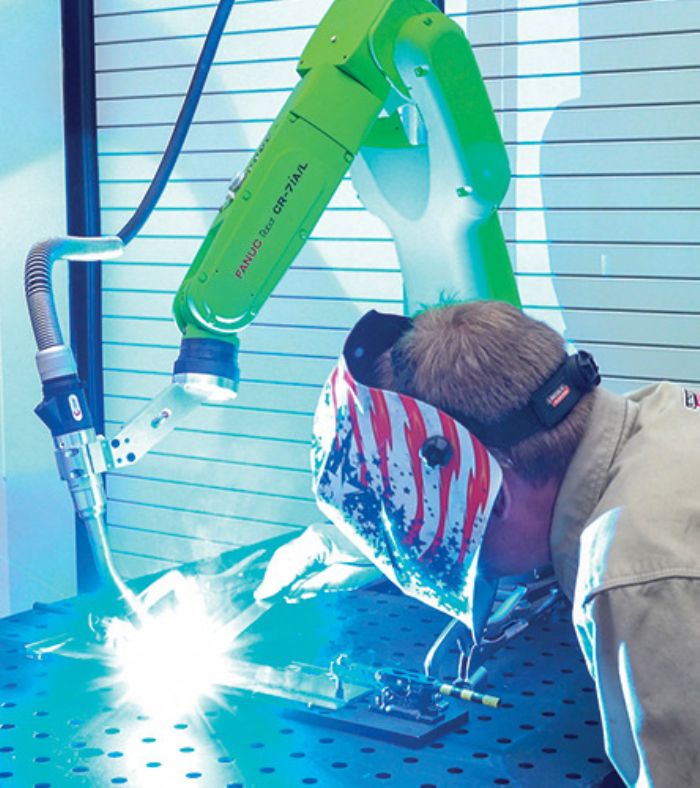 Fanuc America demonstrated at FABTECH 2019 its new line of collaborative arc welding robots, offering the same level of performance as the company's Arc Mate robots, but with built-in sensoring that allows the welding cobots to work safely alongside people without the need for guarding. Features of these arc welding robots include large motion range, and simple setup and programming.
Both of the company's new welding cobots provide six axes of motion, with the CR-15iA for Arc offering a 15-kg payload and 1441-mm reach, and the CR-7iA/L for Arc (pictured) with a 7-kg payload and 911-mm reach. The high payload capabilities combined with the large motion range increases system flexibility to process a broad range of parts.
At FABTECH, the CR-15iA for Arc, paired with Lincoln Electric's Power Wave R450 robotic power source, performed live welding to build a jet turbine component as an additive manufacturing process. In producing the part, the cobot deposited material layer by layer.
The arc welding cobots come equipped with Fanuc's ArcTool application software, featuring a programming interface that supports simple and complex applications, including the company's advanced features such as Weaving, iRVision, Seam Tracking, Thru-Arm Seam Tracking (TAST) and Multi-pass.
These cobots offer floor, ceiling and angle mounting options, with the CR-15iA featuring a hollow wrist for seamless integration of weld-package dress outs, third-party utilities and sensor cables.

See also: Fanuc America Corp.
Technologies: Welding and Joining